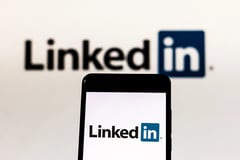 With unemployment rates at all time high and many facing financial hardships, people are flocking to LinkedIn in search of new employment. In fact, LinkedIn recently posted they now have over 690M members (a 14% increase since 2018). For business owners, this presents a plethora of marketing opportunities—especially if you're hiring, but also just for improving your brand visibility and ranking on search engines, helping your audience, and increasing traffic. So the question is no longer why should your business be on LinkedIn, but why aren't you on LinkedIn? Here are the steps to help you get started.
How to Set Up Your Business Page—Quick Tips
Hopefully, you already have a personal account set up on LinkedIn—you can't set up a business page without it. Once you're logged in to your profile, you'll want to:
Select the Work icon in the upper right corner, and from the pop-up menu, scroll down and select Create a Company Page.
From there, you'll be prompted to select the Page Type, followed by entering in a variety of general business details.
Once you've confirmed you are the business owner, then select Create Page.
From there, you can start building your business page. First and foremost, it's crucial you set up your contact info (so leads can reach you) but also the top of your profile page—imagery, logo and tagline. These are the first details anyone who visits your page will see, so make sure it's clear and represents your business accurately.
How to Get the Most Out of It
There are a variety of ways to ensure your LinkedIn page is successful and beneficial to your business. Here are 6 strategies we recommend:
It's important to post regularly on your page. The easiest way to begin is by reposting content relevant to your business. However, we can't stress enough the importance of posting original content. By doing so, you are not only marketing yourself and helping your followers with useful information, but you're establishing yourself as a leader in your field of specialty, resulting in shares, traffic and hopefully sales.
One way LinkedIn members can find businesses and content they're looking for is by searching for hashtags. When you're creating a post, LinkedIn makes it easy to add them by generating hashtag suggestions at the bottom of your post based on the content you're writing. You can select from those, type in others, or input your own. Just add them so you'll be searchable! We recommend 2-4 per post.
You can have fantastic content and great hashtags, but it's all for naught if you don't have followers. LinkedIn will generate a list of people (found on the right side of your business page) to invite based on your contacts. That is the best place to start, but be smart about it. Connect with people you know through work (not your former high-school classmates), as well as regular clients and people you would like to know. LinkedIn is about professional connections, and yes, you want to build a large network, but in order to engage with your followers and invite conversation, you want them to be people who are truly interested in your business and your field. In addition, once you get followers, make sure to respond, like, and/or thank anyone who comments on any of your original content. Engagement can make such a difference in building relationships.
Another common strategy businesses use is to join groups in your field of specialty (select the Work icon in the upper right corner, then select Groups). From there, you can search for groups that align with your industry and related fields. Just be sure to fully read the group descriptions and rules. You will find each group has detailed information about what is and what is not allowed in the group (you don't want to get banned). Once you find group(s) that align with your expertise, you'll then need to request permission to join from the group administrator. Once you're in, for the strategy to work, you need to be active in the group. By doing so, you'll be seen as a thought leader and it could lead to referrals and leads (for instance, when someone has a further question about a topic you're discussing, they could then reach out to you).
Having recommendations on your business profile helps as well. When a potential client is considering reaching out to a business for the first time, recommendations from outside parties can go a long way because they're seen as a trusted source (especially if the source is a connection of theirs). We get it: some people are uncomfortable asking people for recommendations—wouldn't it be great if it just happened organically? So we recommend posting recommendations for others. By doing so, when people in the future read your recommendations, they often will click on the person who posted it. In addition, oftentimes business owners will return the favor and do the same for you. It's a win-win!
As we earlier stated, it's important for your business page to have many followers, but it's important for you to follow people as well. Follow leaders in your industry, but then also people closer to home. Often, they will follow you back (adding to your total) but it can also result in lead generation.
LinkedIn is just one piece of the overall marketing puzzle. Following these recommendations will help get your business set up on LinkedIn for success, but what about on other platforms and outlets? We would be happy to help you develop a successful social media marketing strategy beyond LinkedIn. You can also check out our recent eBook, Marketing During a Recession, for advice and ideas to help your business thrive during this unusual economy.