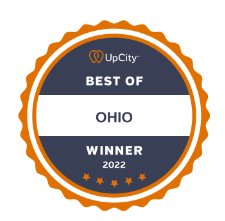 We are proud to reveal that Front Burner Marketing has been recognized as a Best of Ohio Award winner by UpCity!
The UpCity "Best of" Awards have returned after a successful inaugural year in 2021. To commemorate the top 50 B2B providers in each U.S. state and Canadian province, the UpCity "Best of" Award highlights the tremendous work being done by our partners and more in their local area.
Awards are given based on the UpCity Recommendability Rating, which was developed to determine a B2B service provider's credibility and trustworthiness, giving UpCity the confidence to recommend them to potential buyers seeking their services.
About UpCity
UpCity is a B2B online marketplace that connects businesses to trustworthy service providers.
With 70,000+ listed providers from digital marketing agencies, consulting firms, development specialists, and many more, over 1.5 million businesses have used UpCity to find exceptional partners for their needs.
UpCity's proprietary algorithm pulls from digital data points like reviews (both on UpCity and other third-party review sites), rankings in relevant search results, domain authority, website speed, and user experience to connect businesses with high-quality service providers like us.
What UpCity Says About Front Burner Marketing
Dan Olson, CEO of UpCity, had this to say about Front Burner Marketing:
"A quick look at Front Burner Marketing's reviews shows just how dedicated they are to sharing their expertise and marketing savvy with their clients. They build trust with their clients and their devotion to maintaining that trust shines through in everything they produce. This recognition is very well-deserved. Congratulations!" —Dan Olson, CEO, UpCity
This honor has been possible in part by our 5-star review rating on UpCity.
What Some Clients Have to Say About Us
Here are some of our favorite pieces of feedback we've received from our excellent clients:
"I turned over all my marketing to Front Burner about six years ago and I have been very happy with the results. They continually come up with new ideas. My presence on social media is strong. My company's website is clean and professional looking. And my business is always at or near the top in search engine results in my area. The team at Front Burner have always been very easy to work with and responsive to my questions and ideas."
—Chad Lahrmer, Owner
"Front Burner took our outdated website, and redesigned and optimized it to be modern and easier for our audience to use. Not only did they redesign our website, Front Burner helped us better define our marketing strategy and align our marketing efforts with sales. The expertise they provided in web design, HubSpot, analytics, and lead generation are all integrated as a core part of our marketing strategy. They have always given us their undivided time in providing guidance. In addition to their expertise, the Front Burner team is very friendly, and I've enjoyed spending time with them."
—Andrew Marin, Godfrey & Wing
"Our company works closely with the Front Burner Marketing team on a weekly basis. Their ability to understand and deliver our unique requests time after time is impressive. Whether it's an infographic, a narrated video, a blog, an entire business line marketing plan or questions regarding the HubSpot platform, the experts at Front Burner Marketing never disappoint. Their professionalism, knowledge and team collaboration is always appreciated and respected…I'd highly recommend them for all of your company's marketing needs."
—Jodi Reimer, Clear Process Solutions
Can We Help You?
We're thankful to our clients and the Ohio community of small business owners who have trusted our team to manage their marketing teams, positioning us to be recognized as a winner in this year's UpCity 2022 Best of Awards. If there is anything we can do to help you out with your marketing needs, let us know!