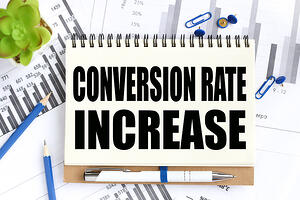 Gain customers, increase traffic and sales, beat the competition… these are all benefits of successful digital marketing. But how can a business owner tell if their digital marketing efforts are working? One simple method is by tracking an important little metric: Conversion Rate. By monitoring your rate, you can adjust your tactics and continually improve the success of your digital marketing efforts. Let's examine what conversion rates are and how you can boost your conversions to new heights.
Understanding Conversion Rates
First, it's important to understand what conversation rates are. A conversion rate is the percentage of users on your web page who take a desired action. It's easy to calculate: You simply divide the number of unique visitors who actually take the desired action by the total number of unique visitors and then multiply it by 100%. Conversion can be calculated for an entire website, or just a single web page.
Some pages are designed for visitors who are just at the beginning stage of the prospect relationship, primarily just searching for top line information. Conversion here could be just clicking on a link that leads them to more information and doesn't require that they provide any information in return.
A landing page is a specific type of web page designed for collecting information that the visitor is asked to provide. A landing page typically promotes more valuable content that a more interested visitor--probably someone who is further along in their purchasing consideration journey--would be willing to exchange some information for. For instance, users are normally directed to a landing page when they are on a regular web page and click on a link that promises an offer of some kind. Clicking on that link lands them on the page where they can complete the transaction of asking for that asset. For a landing page to be effective, it should clearly describe what your visitor can get in exchange for the information they provide, thus giving them some reassurance and incentive to follow through with providing their information, resulting in conversion.
Conversion represents an important metric to track over time so you can see if it's increasing or decreasing as you make adjustments to the page content or design. A high conversion rate means that your marketing strategies are working and you have a killer landing page! According to Hubspot, the average landing page conversion rate across all industries is 9.7%. If your rate falls below this number, there are multiple ways to improve it. Here are 6 methods we recommend:
1) Improve Forms
When a person visits your landing page, in order to obtain the offer, a form is used to collect their valuable contact information. The key to an effective form is keeping it short and sweet. For example, a person who is searching for more about a topic probably doesn't want to provide a significant amount of personal information or spend minutes filling out a form just to read an article or to receive an ebook. Requesting too much personal data can cause them to abandon the effort. So as much as possible, only ask questions that are 100% necessary to increase your chances of getting more leads.
You may also want to consider progressive profiling, where you gather bits of information a little bit at a time—rather than asking for it all up front. You can begin by just asking for their name and email address to start, then gather more data each time they visit, building a more robust profile over time.
2) Create Strong CTAs
A persuasive call to action (CTA) on your landing page can significantly improve your conversions. To start, use a strong verb to convey what you want the customers to do. If you have an e-commerce site, use words such as "buy" or "order." If you want the customer to request a useful resource, use "fill out a form" or "find out how we can help."
Use words or phrases that excite your audience and give them a reason why they need to do something about the offer. For example, "Buy today and get 50% discount!" Creating a sense of urgency also helps, using words like "now" and "today." But most importantly, don't forget to include what's in it for them.
3) Remove Distractions
Are your landing pages focused on one goal? It's imperative to direct your customer's focus to the next step, which is to buy or convert. Remember: You want them to take one specific action, so don't confuse your audience by adding multiple CTAs. Your goal should be to create a landing page that is simple, realistic and distraction-free. Along these same lines, you'll also want to make sure your landings pages don't have navigation links on them, making it easy for the visitor to become distracted and navigate away from the page. To avoid frustration while maintaining their attention, it's best if landing pages open in a separate window. That way, in the absence of the site navigation the user won't lose your original website.
4) Social Proof
Visitors usually read several pages on your website before ending up on a landing page, so the content they find there is important in building their trust and confidence that you offer something that will be right for whatever their need might be. Customer testimonials and reviews are especially effective types of content, adding social proof from others that not only establishes credibility for your brand, but also builds trust and increases your chances of getting more conversions. In fact, 63% of users are more likely to purchase a product or service that has reviews.
5) Run Split Testing
Search Engine Optimization experts use key performance metrics to determine whether a marketing campaign helps generate revenue or achieve a particular objective. By running a split test, you'll find out which headlines, layouts or CTAs contribute to more conversions. For example, former President Barack Obama raised 60 million dollars by using an A/B test. The test will compare which version of a web page gives you more conversions, indicating what adjustments need to be made for the best chance for success.
6) Test Offers
It's not enough to post offers; you need to check if they actually work and if they give you more conversions. There are three things to keep in mind when posting offers: Know your target market, offer a valuable resource and then sell your offer in an enticing way that makes customers feel compelled to buy. Offer something useful for your potential customers and make sure to differentiate yourself from the competition.
We Can Help Improve Your Conversion Rates
Front Burner Marketing is a HubSpot Solutions Partner Certified committed to helping businesses increase conversion rates and growing their business. We take pride in providing top-notch marketing services to help businesses achieve a competitive advantage. Contact us today for a consultation.