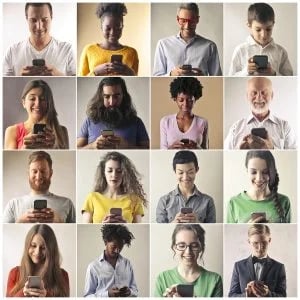 We are up to our eyeballs in articles about Millenials. It's the generation we're all trying to get our hooks in - to sell to, to share our brand, to work for us. But, there's an underlying demographic not getting the attention it deserves, and it includes Millenials.
It spans age groups and unites its members through a digital and internet-run life. It's growing in leaps and bounds, too. It's a generation not easily sold to through traditional methods. In their minds, content, from trusted sources, is king. Ryan Holmes, the CEO of Hootsuite, tells us more.
What is Generation C?

Back in 2012, digital analyst Brian Solis defined Generation C as the "Connected Consumer." He pointed out that anyone who integrates technology into their daily routine, regardless of age, shares certain qualities. "It is how people embrace technology, from social networks to smartphones to intelligent appliances, that contributes to the digital lifestyle that is now synonymous with Gen C," he said.

Solis wasn't the first to talk about Gen C. As early as 2004, researchers were noting a new cross-generational cohort made up of digitally savvy folks who create and curate content, build online communities and find and consume products in distinct ways. Depending on whom you talk to, the "C" in Gen C can refer to everything from "collaboration" to "community," "computerized," and "content." At the most fundamental level, however, I like to think that Gen C stands for connectivity.

What age groups make up Gen C?

Here's the critical fact: Gen C isn't an age group at all; it's a mindset. There's no cut-off date. You can be 15 years old or 85 years old and still be a full-fledged member. Nor is it defined by socioeconomic status, ethnicity, geography or any of the classic demographic markers. Gen C isn't necessarily rich or poor, urban or suburban. What sets Gen C apart is connectivity, in its fullest sense.
Read more about Generation C here.
Generation C is a Buyer Persona we all need to focus on. They have tremendous power as a group. They have a sense of community and sharing that can help spread content in a very successful and organic way. If you are ready to target your marketing campaigns at this new group, but aren't sure where to start, contact the experts at Front Burner Marketing today. We'll help develop content to get you connected with the right target markets to grow your business.