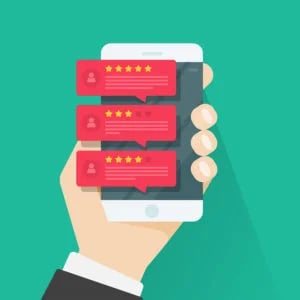 When you're planning date night, how do you choose a restaurant? You ask people you know or you look online at review sites like Yelp. If 100 people positively review the place, you'll be more likely to try it than a place with no reviews. No one wants to waste their money or their time on a place that is subpar. And in an online world, there is no shortage of input from other people to help influence your decision. The more positive reviews you have, the better.
From an article on Manta:
Every day customers and potential customers are inundated with marketing messages via email, social media, and more. In a culture where businesses constantly try to tell customers what to think and feel, it's not surprising they turn to other customers for feedback they can trust.

"Positive reviews are important to small business growth because they carry more weight with potential customers than company marketing messages," according to Karen Swim, founder of Words for Hire.

"People see reviews as an unbiased opinion. We have long known that word-of-mouth marketing is powerful, and that concept has only been amplified by the web, where it can be shared wider and further," she said.

And while positive reviews are essential to drive customers to your small business, it's just as important to ensure your company has a strategy in place to appropriately respond to bad reviews.

According to a recent study conducted by Vistaprint Digital, 50% of small business consumers "said that bad online reviews were the thing most likely to prevent them from choosing a particular business," explained Sarah Matista, marketing communications manager for Vistaprint Digital.
Taking time to research the review sites your business is listed on is critical. You need to listen to what customers are saying. Consider looking at competitor's reviews as well, there may be valuable information there. Also, encourage your customers to share their positive experience on whichever sites you find most useful to your industry. In the event of a negative review, be sure to address it directly with the complainant as well as online so people can see how you handle the situation.