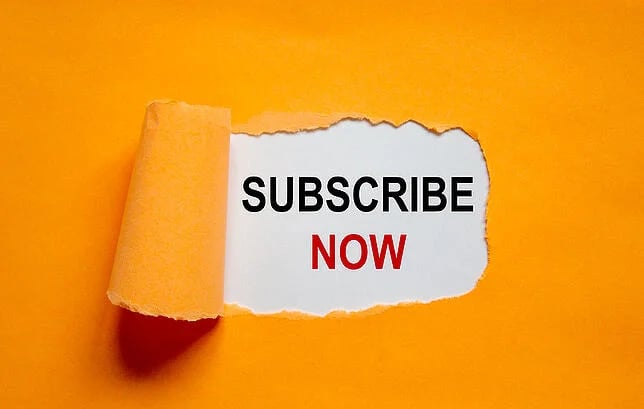 What is the secret to getting more blog subscribers? It begins by taking the time to create a blog, followed by consistently posting content that educates, informs and shares information that helps your prospects and clients work smarter. As a result, your blog should gain traction and slowly increase in readership. But if after all that, what if it's not at the goal number of subscribers you had envisioned? How do you increase your number of subscribers to help reach more people and to help attain your goal of being a leader in your industry segment?
"Nearly 80% of people identify as blog readers. Companies that blog generate 67% more leads than those who don't, 434% more indexed pages, and 97% more indexed links…all of which lead to better SEO and ranking." – Neil Patel
A blog is an effective way to add fresh optimized content to your website, which keeps your marketing strategy moving forward even during turbulent times when other marketing channels are on pause.
Here are 10 effective tips to help grow the number of your subscribers:
Make it easy to subscribe – The subscribe button should be easy to see at the top of the fold of your blog. A one-field opt-in button will help readers quickly take one action to begin receiving your content.

Optimize your content – The more traffic you can drive to your blog using SEO, the more probability you will gain subscribers. Be sure that all your content uses target keywords and you brush up on you SEO to ensure that your target keywords will rank in search engines.
Add a blog subscription link in your email signatures – Company-wide, encourage your sales, marketing, operations and accounting teams to add a simple text-based blog subscription link to the bottom of their email signatures. By creating a subscription link to your blog within emails, it will encourage recipients to subscribe.
Create a dedicated subscription landing page – By creating a landing page specifically with the goal of attaining more blog subscribers, you can provide detailed information about the type of content you will be sharing with your readers, as well as direct them to your other social channels and content. In addition, by directing visitors directly to a subscription page, they will easily be taken to one page specific for them to subscribe. Here is an example of how you can amp up this page to demonstrate how your content is valuable.
Promote your blog on your social media channels – Share an update with the link to your blog or to a dedicated subscription landing page to any of your social media accounts. By posting the link occasionally and consistently, it will help pull in those audiences to become blog subscribers.
Be sure your blog posts include social sharing buttons – This makes it easy for readers to share your blog posts to their social networks with the click of a button. This will expand your content's reach to their networks and followers, indirectly boosting your subscribers.
Guest blog and create a backlink – Guest blogging allows you to share your knowledge to a broader reader base while cross-promoting your blog. How? Create a link back to your blog in the author byline. For example – Valerie Kliskey is the blog manager for the Front Burner Marketing blog, which has more than 1K subscribers. You can read more of Valerie's content on digital marketing strategies by subscribing to the Front Burner Marketing blog here.
Consistency is key – If a reader subscribes to your content, the fastest way to lose their interest is not posting content regularly. To ensure that readers receive value, it's important to be consistent and post frequently. HubSpot's 2012 State of Inbound Marketing Report shows that the more frequently you publish to your blog, the more likely you'll generate customers from it.

Add opt-in checkboxes to your landing pages – If you have landing pages created for your website, simply add a checkbox so visitors can easily opt in to subscribing to your blog while checking out one of your other offers. HubSpot was able to boost their newsletter subscribers by 128% in just three months by adding this feature to all their landing pages.
Create a contest – You can create a social post that offers a prize to a randomly selected subscriber who subscribes between the launch of your contest up until a designated end date, then post the winners to your social media channels to keep up interest and momentum.
With 10 different suggestions, it can be difficult to know where to begin to increase your subscribers. But the more tips you implement, the better chance you will have for success. But don't fret if you find this overwhelming. We at Front Burner Marketing would be happy to help you create and develop a successful blog or review your current blog and assist you in improving it to meet your goals. For further tips in improving your marketing efforts and keeping your content fresh and relevant during changing times, download our free Guide to Recession Marketing.