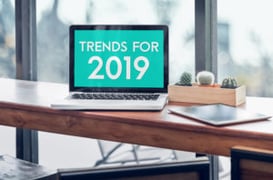 Typefaces and colors come and go, but the design trends this year are more than fleeting fonts. In 2019 graphic design is expected to become more creative and experience driven than ever before. While the traditional elements of graphic design are still important, the most compelling pieces will be those that are diverse, unique, and even interactive through artificial intelligence. Here are the graphic design trends marketers can expect to see this year.
Brands have been aware of the need for a recognizable audio logo – think McDonald's, Intel or Green Giant, for example. Now, new technology is bringing another auditory challenge to the design world.

The rise of voice-enabled technology in homes presents a huge creative opportunity. The need to create sonic branding that complements its visual counterparts is crucial, alongside the flexibility to adapt it to various technologies, platforms, channels and media.

Sound design has long helped brands double down on emotional connections – 2019's designers will be challenged to think more holistically, weaving sound not only into the pantheon of an organisation's visual identity, but also into its interactive films, chatbot tech and voice recognition software. Visa, for example, spent a year working on a signature 'chime' – evoking a sense of security and efficiency, heard whenever customers pay through their phones.

Keep reading here, at marketingweek.com.
Trends are constantly changing, but those coming in the year ahead are deeper than aesthetics. Marketers are increasingly expected to connect with consumers and make an impact. The industry has been shifting over the past several years, and marketing has become much more than pushing products and services into consumers' laps. The most successful design pieces in 2019 will be those that are interactive, relatable, and ultimately meaningful to their target audience. At Front Burner Marketing we keep up with the latest industry trends, and create custom marketing campaigns that are relevant and impactful for our clients and their customers.