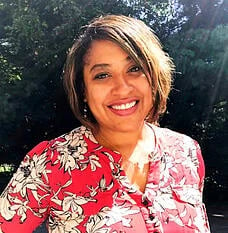 Last year, we started offering the Digital Marketing Pro course through our Marketing Training Room and thought there is no better way to back it than to send one of our own team members through it and report their thoughts along the way.

One of our account managers, Tiffany Lardomita, is currently enrolled and has completed about a quarter of the course. Check out her experience so far to see if this course is right for you, a team member or employee.
---
As both a marketer and someone who has developed online courses for educational institutions, I can be a bit critical when taking a course. However, what I'm discovering through taking the Digital Marketing Pro course is that there's a reason why the Digital Marketing Institute's certification is considered the global standard. It's powerful!

With nearly 30% of the course completed, I'd like to share my findings so far with anyone considering earning the certification.

LOGGING IN AND COURSE INFO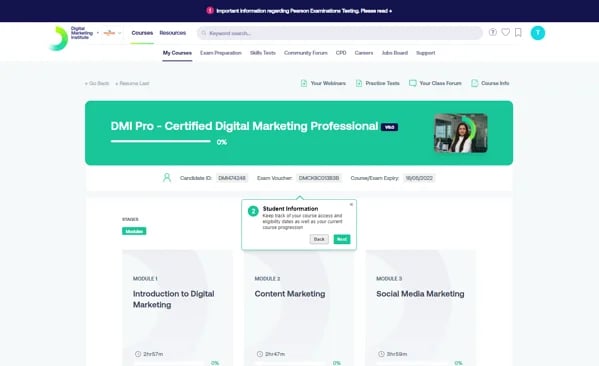 Shortly after signing up, I received a welcome email with simple instructions on how to log in to my account. Within moments, I was logged in and could view my dashboard, a list of each module, and how many hours I should plan to spend on each. The course modules include:
Introduction to Digital Marketing
Content Marketing
Social Media Marketing
Search Engine Optimization (SEO)
Paid Search (PPC) Using Google Ads
Display and Video Advertising
Email Marketing
Website Optimization
Analytics with Google Analytics
Digital Marketing Strategy


With a clean interface and clear instructions to guide you, the Digital Marketing Pro course portal earned high marks in book almost immediately. I've worked in clunky learning management systems in the past, and this LMS has been a breath of fresh air!

There are a few more "pros" of note.

DIGITAL MARKETING PRO PROS

Progress Tracker
As you work your way through each module, there is a progress tracker so you can see how much of the course you've completed. This is incredibly motivating as you're figuring out how much time you would like to spend learning each day. When you know you're almost at the finish line, it's nice to see when you're only a few percentage points away from completion.

Module Order
You can complete the modules in any order you'd like. This is making things fun because I can complete the parts of the training I am most interested in first, or I can knock out the ones I am less interested in to "eat the frog" as Brian Tracy would say. I decided to start at the beginning, but by the third module, I skipped around to attack pay-per-click advertising because it was a topic I wanted to brush up on.
Study Guides
The study guides are flat out awesome. For people who don't like to watch videos, you can get a ton of information through reading the guides or save and print each guide to follow along while you watch. It's seriously like a mini e-book for each module...one was over 60 pages! I have never seen such comprehensive and well-written guides from any course I've taken or created in the past. I'm sure they will come in handy when it's time to study for the certification exam.
Practical Exercises
The practical exercises allow you play with some of the marketing tools and interfaces like Google Ads. Having the ability to do "hands-on" work while taking the course is great for those who need more than lectures and words on a screen to understand concepts. During the PPC module, I was able to log into to a simulated Google Ads account and set up a campaign, just like I'd do in the real world. I like how they have integrated this feature into course.
Lay Out
Every module is organized, neat, and easy to follow. It's great to not have to waste time navigating a bunch of disjointed content. I can log in and learn!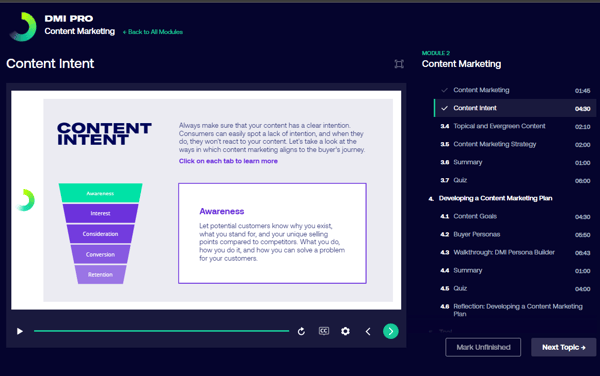 Now this wouldn't be an unbiased review if I didn't share some of my dislikes with you. So here are a few things that I don't necessarily love (but remember that I'm picky, and some of you who are familiar with taking online courses might not have the same thoughts).
DIGITAL MARKETING PRO CONS

Time
There is no way to speed up the videos in each module. HubSpot certification courses allow you to view videos at faster speeds and I love that. In other online courses I've taken, I've also been able to speed things up by skipping examples or additional explanations on topics I understand. There is no way to skip ahead in this course. You have to watch it all. But the good thing is that there are interactive lessons so you are not glued to your computer watching presenter after presenter.
Quizzes
At the end of each section, you are required to take a quiz. While I'm a fan of quizzes to ensure you're mastering the material, the scoring of these quizzes is not ideal. You are not given partial credit for any of the questions even it is a multi-step question. This could be demotivating because it can lower your quiz score quickly. But since your score doesn't count against you, I'll bet this is just a way for you to see how questions will be presented in the final course exam.


TIFFANY'S TAKE

With three modules under my belt, this course is teaching me things that even as someone with 12 years of digital marketing experience, I didn't FULLY understand.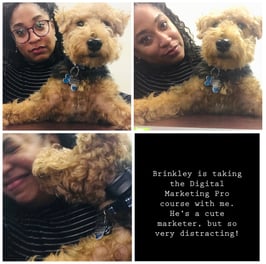 It's unwise to think you can know everything about a field as vast as marketing, so the course is opening my eyes to some skills gaps that I could use help filling. I'm sure that even those with more marketing experience will find many valuable takeaways.

I'll continue updating you on my journey as I wade through the rest of the course material and go on to take the final exam. Wish me luck!
Interested in taking this course? Classes start soon.



Want to continue following Tiffany's journey before you decide to embark on it yourself or offer the opportunity to a team member or employee?