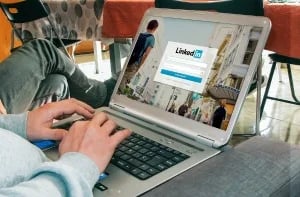 B2B has found its home on LinkedIn. Many B2B companies struggled to reach their audience on other platforms like Twitter and Facebook, so LinkedIn was able to provide a space where B2B could connect, interact, and share. Now the platform has over 500 million members, and it has become difficult to reach the right audience. To make your content seen and heard it will take a bit more work than it did when LinkedIn first launched. Here are some stats that will help you navigate LinkedIn:
LinkedIn is a B2B gold mine…It's where most Fortune 500 decision-makers and executives like to spend their spare time. The best part?

More often than not, they're actually scrolling through actively looking for valuable content to read. There isn't the same barrier you need to break down like on other social platforms like Facebook. They're not there to find Buzzfeed quizzes, wedding photos, or memes. They're looking for content that can change the way they do business, which is most definitely music to the ears of a B2B marketer.

Still, if you haven't dug into LinkedIn yet, the time you need to commit could be frightening. Not to mention you need to know how to cut through the noise if you want to make it all worth it.

To help you out, we've highlighted the 45 most important stats every B2B marketer needs to know about LinkedIn, all compiled from the best research available on the web. We'll show you the key findings from studies conducted by HubSpot, Business Insider, Content Marketing Institute, Buzzsumo, OkDork.com, and more…

Read the rest here, at foundationinc.co.
Social media spaces are overloaded with content, so it can be difficult to get yours past all the white noise. The stats and facts above provide some insight about LinkedIn lead generation, user habits, publishing, and more to help you post and engage effectively. However if all of this information overwhelms you, there are marketing professionals available to steer your efforts in the right direction. At Front Burner Marketing social media is one of our fortes, and we are constantly learning and adapting our social media strategies to best serve the needs of our clients on platforms like Twitter, Instagram, Facebook, and of course, LinkedIn.