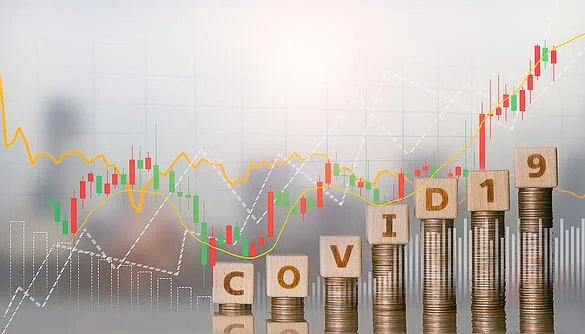 It's been over 7 months since the Coronavirus hit our US economy and all our lives. But how has it impacted digital marketing and its reach to your audience?
HubSpot is an inbound marketing agency with global clients spanning a wide variety of industries, which puts them in a unique position to examine how digital marketing tactics are changing and the new benchmarks we're experiencing. Their report, COVID-19 Marketing & Sales Benchmark Data, compares key business metrics between pre-COVID benchmark levels and today, and is full of useful insights.
For instance, notice how far below the pre-COVID benchmark (the 0% line) the number of deals created, and deals closed fell during March, when the impact was just starting to be felt. Just as surprising, see how strongly deals are rebounding, with the rally beginning in late July.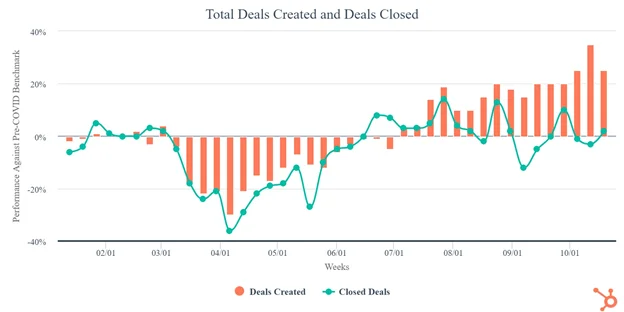 Now check out the "By Industry" breakdown. It's clear that the number of deals created and won in the Construction industry immediately increased in May and has continued to increase during the pandemic. On the flip side, Consumer Goods and Computer Software are farther behind. And not surprisingly, Entertainment and Travel are far below their benchmarks.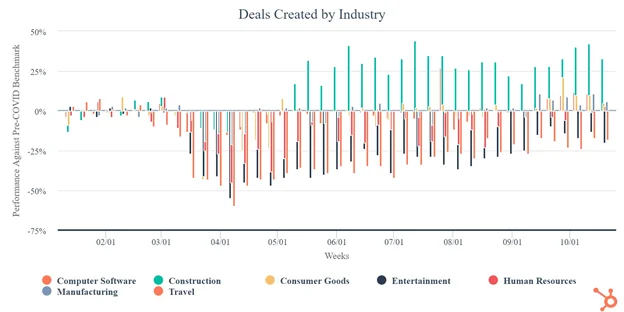 Interestingly, the size of the company does play a role in the number of deals created. Larger companies seemed to rebound mid-July and small companies in September.
But let's look at total conversations with the audience of these companies. The good news is that people are responding again and are participating in conversations related to deals and overall business.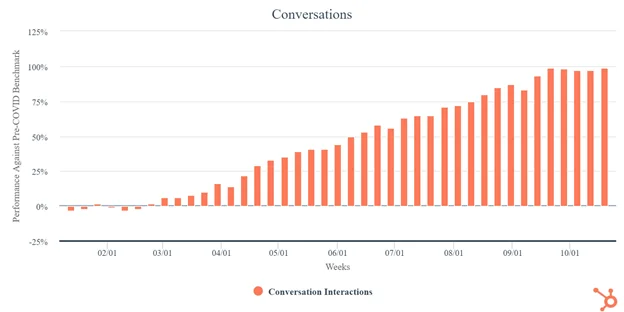 These conversations have continued to increase across all industries, which is very positive.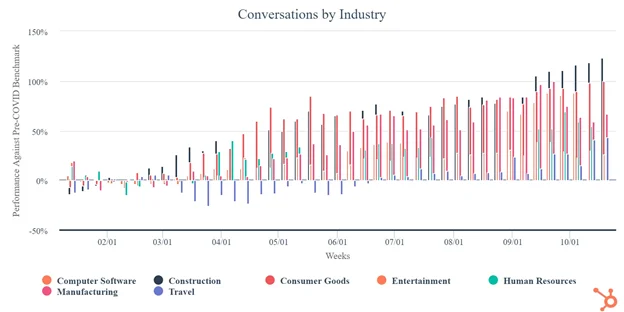 In addition, with the strong retail shift to online vs. brick and mortar, here are some statistics that forecast the impact of Q4 COVID-19 on ecommerce statistics:
COVID-19 has changed the landscape of digital marketing, how we market, the messages we communicate and the thought process of our prospects and clients. On a positive note, based on the above data, we see a trend toward business resuming and people adjusting to the "new normal."
If you are still figuring out how you should market during a recession, let us help you!