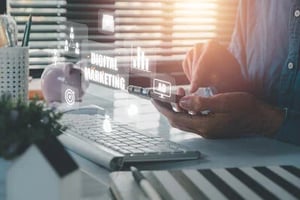 When people hear "analytics" their mind often goes to Google. While website analytics such as visits, bounce rate, sessions and more are valuable metrics tracked on platforms like Google Analytics, marketing analytics can provide a lot more insight. Website analytics are certainly an important measure, but when combined with marketing analytics those findings become a lot more powerful. Here is why your business should consider aggregating website and marketing analytics into one comprehensive report.
Measuring the effectiveness of digital marketing is one of the greatest challenges facing organizations today.

According to HubSpot's 2018 State of Inbound report, 42% of marketers cited "proving the ROI of our marketing activities" as one of the biggest challenges they face within their company. Brands also say they plan to increase spending on marketing analytics by between 75 and 100 percent, says a study by VentureBeat.

The trouble is, when most marketers hear 'digital analytics,' they tend to think of the metrics you'd typically associate with a simple web analytics tool like Google Analytics — traffic, bounce rate, unique visitors, etc.

Read more here, on hubspot.com
Here's the bottom line: only looking at website analytics won't get you very far. Marketing analytics will provide a whole new spectrum of data that allows your business to refine marketing strategy and create better connections with target audiences. When looking at both website and marketing analytics together, your business will get a big picture view from data found on your site, while marketing analytics will give a deeper perspective into what tactics are working and those that aren't. For those in need of help creating analytic reports, or translating that data into usable marketing strategy, marketing agencies are a great resource to get you started.