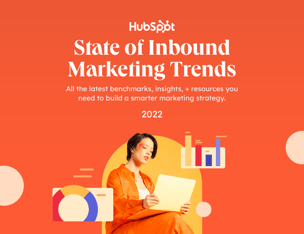 As HubSpot does every year, they collected data on all things marketing in the past year. They surveyed 1,600 marketers, interviewed three experts, and pulled together 50+ stats and trends. As a HubSpot partner, it's a report we wouldn't miss reading and, of course, one we wouldn't miss sharing.
According to HubSpot's Chief Marketing Officer Kipp Bodnar, "Creators are dominating as an engaging, specialized channel to connect with niche audiences, short-form video continues to boom, and marketers are getting more efficient with their workflows and processes."
HubSpot's State of Marketing Trends Report 2022 includes insights and takeaways to help you learn how to market your business, connect with the right people, grow your audience, and cater to today's buyers. We've gone through it section by section and broken down some of the highlights. Let's take a look!
1. Emerging Trends in Marketing & Marketing Benchmarks
It's no surprise, social media is here to stay. In fact, it's the top marketing channel for 2022, with influencer marketing and short-form video content as the most popular trends. Marketers are now investing in Twitter Spaces, YouTube Shorts, and Instagram Live Rooms.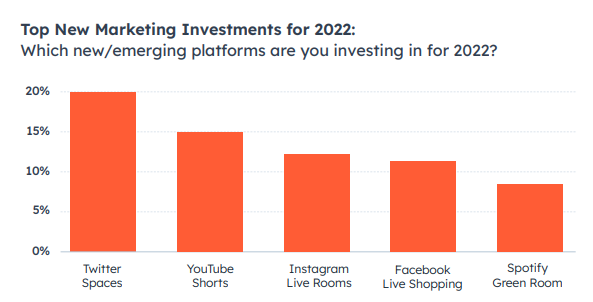 Source: HubSpot
Understanding the right place to start creating an on-brand marketing campaign is a must when devising effective strategies. This will take time, effort, and budget. Here are some of the top channels marketers are using.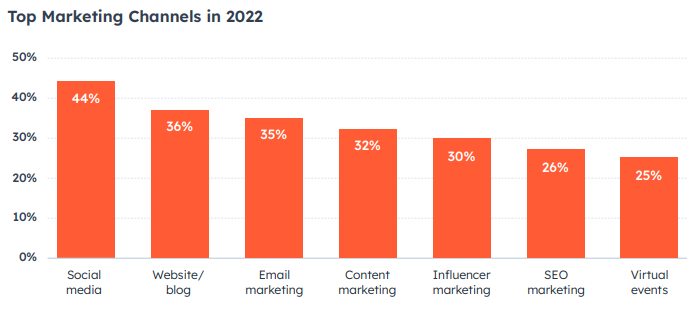 Source: HubSpot
It still holds true that mobile devices are used most often on the web, followed by desktops, then tablets. The top website traffic source is direct (20%), followed by organic search (17%), social (16%), email (14%), display ads (12%), referral (9%), and paid search (9%). The most effective channels for acquiring new customers in 2022 are:
social media
SEO, and
physical events/tradeshows.
2. Content Marketing Trends
Content marketing, specifically utilizing multimedia formats, is still a priority for many marketing teams. Video has been the top media format for three years, with platforms such as TikTok and Instagram Reels increasing in popularity. The most effective posts are humorous and interactive, so keep striving for this. Brands are focusing even more on authenticity by featuring user-generated and employee-generated content.

Source: HubSpot
3. Social Media Marketing Trends
Social media is an important outlet for sharing information and messages, as well as educating and inspiring. This year, brands will dedicate substantial investments to Instagram, YouTube, and TikTok. By leveraging new platform features, live streaming, and short-form video strategies will be more utilized.
YouTube has seen significant growth in popularity and is now the second most popular platform. AI-powered voice transcription and new accessibility options have barely been explored in video SEO. To capitalize on these opportunities, we recommend you practice your video recording and editing skills and scale up your YouTube marketing strategy.
Marketers are expected to increase their content investments in:
Live-streaming
Short-form video content
VR & AR
Long-form video
Experimental content
Live audio chat rooms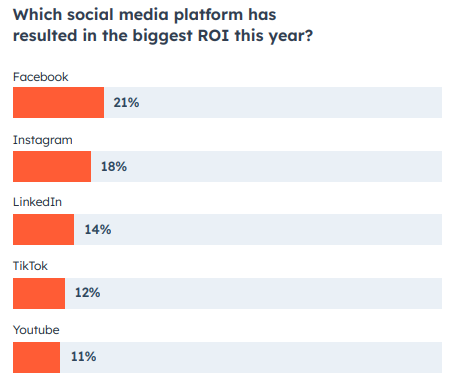 Source: HubSpot
4. Email Marketing Trends
Email marketing is an essential component of a successful marketing strategy. About 95% of marketers found their email marketing strategy effective last year. B2C brands were more likely to find success through email marketing. Strategies such as personalization, engaging subject lines, and mobile optimization have proven to increase the effectiveness of email campaigns.

Last year, companies used email to improve customer loyalty and retention, increase sales, generate leads and web traffic, and increase brand awareness. Some key findings from the report include:
Most people open emails on a mobile device, but tablets are on the rise.
95% of marketers felt that email marketing efforts were effective in meeting their business goals.
Gmail is the most popular email client.
It's crucial to evaluate your audience's engagement. But how? You can do this by analyzing popular email clients and testing ways to improve user experience. Be sure you're monitoring the mail privacy protection impact, particularly on Apple devices, mobile vs. desktop breakdowns, and the percentage of people using dark mode. Design emails for optimal usage and make sure they render correctly across devices/environments.
5. Digital Advertising Trends
Brands increasingly use advertising as a complement to their marketing campaigns, enabling them to reach more potential customers. Last year, 80% of brands utilized paid social media advertising. Facebook and YouTube are the most popular channels for companies to allocate their advertising budget, but Facebook and Instagram have the best ROI compared to other channels.

Source: HubSpot
6. Video Marketing Trends
We've shared a lot about the importance of video use. To add to it, 76% of marketers confirm video helped them reach their goals more than any other media type. Plus, 6 in 10 marketers are currently using video content for marketing, leaving a big opportunity for brands to experiment with different channels. Surprisingly, about 35% of marketers plan to use video marketing for the first time this year. If this is you, don't panic, consider using free B-roll or a smartphone to get started.
The most popular channels for video content are:
YouTube,
Facebook,
Instagram,
Twitter, and
LinkedIn.
Measuring your content's effectiveness is crucial. Here are some metrics to consider tracking.
View count
Likes/comments
Lead generation
Subscription/follow rate
Social sharing
Click-through rate
Purchase conversion rate
Watch time/drop-off rate
7. Influencer Marketing Trends
Last year, 68% of marketers used influencers, and 88% plan to have a dedicated budget for influencer marketing this year. Influencers now represent any creator who has an engaged following, and increasingly aligned themselves with brands they trust as partners.
New to the influencer world? The main goal of an influencer is primarily to increase brand awareness.

Here's what marketers are looking for when partnering with an influencer:
Content quality
Engagement rate
Alignment with company values
Aesthetic/branding
Expertise in a particular industry
To measure the effectiveness of your influencer, consider looking at revenue/sales, brand awareness, impressions/views, brand mentions/hashtags, and clicks.
8. B2B and B2C Marketing Trends
B2B and B2C brands share many common marketing strategies including influencer marketing, ambassador communities, and social media marketing. B2B marketers tend to work with sales, revenue ops, and other go-to-market teams, while B2C marketers tend to collaborate with PR, brand, and digital sales teams. Some key findings from the report include:
B2B and B2C brands are both finding success on TikTok.

B2B brands are more likely to use LinkedIn and find it effective, while B2C brands are more likely to feel that billboards and physical ads deliver the best results.

B2C marketers are more likely to expect their marketing budget to increase in 2022.
9. Future Marketing Predictions
HubSpot also predicts the following for marketing this year:
There will be more B2B brands on TikTok.
A rise in B2C investment in SEO, content marketing, and podcasting.
AI and machine learning in marketing will increase.
Automation and growing investments in marketing and revenue operations are expected.
The short-form video boom will continue, and lead to more short-form video ads.
Influencer marketing will grow and evolve, with continued growth in the creator economy.

Conclusion
This year, you should analyze your marketing plan holistically to be prepared to make changes and pivot when necessary. Digital audiences prefer brands that are honest, open, and original, so keep working to create and deliver this type of content! Take risks to try new channels or media formats and don't get too focused on metrics and tracking.
If you have questions or if there's anything we can do to support your marketing journey, let us know! We love this stuff, and we're happy to help in any way we can.