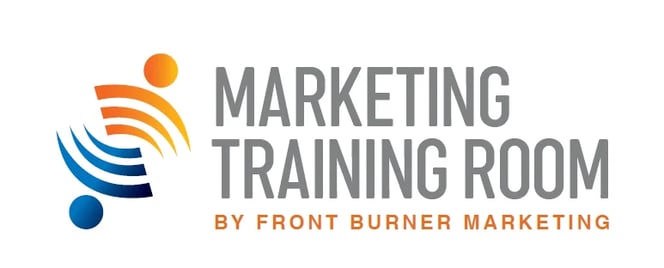 For Immediate Release
Marketing Training Room Expands Online Courses and Financial Aid Options to Deepen Digital Marketing Knowledge and Curb the Technical Skills Gap
Ohio Training Agency, Front Burner Marketing Offers Affordable, Online, and Self-Paced Education Model for Both New and Seasoned DIY Business Owners and Marketers
Cleveland, Ohio 06.08.2022-- Driven by automations, new technologies, and forced adoption of virtual interactions during the COVID-19 pandemic, the Marketing Training Room launched to help prepare practitioners and business owners for the growing global tech gap.
The Technical Skills Gap is a Pressing Issue
By 2025, more than half of all employees around the world need to upskill or reskill to embrace new responsibilities (World Economic Forum).
By 2030, the talent shortage and skills gap in the U.S. alone is expected to total a loss of $8.5 trillion (PwC).
Only 34 percent of workers feel supported by their organization's skill development opportunities. (MIT and Deloitte)
However, for the marketing industry, various educational resources provide digital courses and tuition options to help remove obstacles and make learning accessible—quick and simple yet effective.
Critical Digital Marketing Training
A recent training off-shoot of Front Burner Marketing—a digital agency founded in 2002—has become the go-to for digital skill development. According to Program Director, Tiffany Lardomita "Marketing Training Room is an educational hub where both business owners and career practitioners cultivate applied understanding of marketing technologies and best practices". Lardomita says, "We wanted to create a conduit for mastering must-have marketing skills by using the most relevant curriculum leading to superior industry credentials".
Marketing Training Room has curated the best educational resources from organizations such as the Digital Marketing Institute, the American Marketing Association, and HubSpot. The curriculum is provided by internationally recognized certification partners under the guidance of brand-name industry advisors. The information is reviewed twice yearly to ensure it is up-to-date. Custom training is provided by seasoned account managers who can work with students one-on-one or in a group.
Certifications, Trainings, Classes, and Workshops
And more! Explore the complete list of 18+ digital marketing courses ranging from 6 to 30 hours.
Community Partnerships
Partner Liaison, Jenny Kelley explains, "Marketing Training Room has partnered with both nonprofit and for profit organizations in Greater Cleveland and beyond. Partners include incubators and organizations that offer business services as well as companies of all types and sizes". Kelley continues, "Marketing Training Room provides applicable knowledge, not just for marketers, but for the do-it-yourself small business owner, and often serves as the training provider for an entire team or department".
100% Tuition Reimbursement Available
Marketing Training Room teamed up with the Ohio TechCred reimbursement program as a credential provider. The majority of their courses have been approved and qualify for the program. The team knows how the Ohio TechCred program works and helps guide students or their employers through every step of the process.
Whether a business owner is taking the reins and handling their own marketing efforts, managing an internal team, or outsourcing to an agency—the courses provide the training needed to stay relevant and see results! The steps are simple for individuals or employers to apply for reimbursement:
Select the Marketing Training Room course

needed to bridge identified skills gaps.
Complete the course and submit your certificate for reimbursement.
What Graduates Are Saying
"I truly appreciate your help with enrollment and the reimbursement process! The timing for the course was perfect. I was promoted around the same time as the course started, and part of my new role is helping to build a new website. I've already put many of the concepts covered in the course into practice, and know I will continue to utilize this skill set." ~ Sondra Downs, DMI Pro Grad
"I recently completed and received my digital marketing professional certification through Front Burner Marketing. They were able to assist me in getting registered for the classes as well as getting my business reimbursed for the cost of the classes using Ohio's TechCred program. The team is friendly and easy to work with. The Program Director was always able to assist and encourage me throughout the entire program. The classes were easy to navigate from the comfort of my own home when it was convenient. After the certification exam, I got reimbursed for the program. Now, I have added more skills and a digital marketing professional certification to my resume. This is a value for me now and in the future. Thank you so much!" ~ Amy Kolarik, DMI Pro Grad
About Marketing Training Room by Front Burner Marketing
Marketing Training Room is a natural extension of Front Burner Marketing's agency services that enables their team to reach beyond their client base to help both marketers and business owners develop their own skills. The team at Front Burner Marketing believes in sharing their expertise by making marketing resources, education, and training accessible to students and practitioners at all stages of career development and businesses at all levels of growth.
Front Burner Marketing has been a leader in digital marketing and sales enablement since 2002. They've developed deep knowledge and experience in the digital marketing space. Today, they're a team of mission-driven marketing experts who work together to maximize the career and business success of students and clients.
###
Contact | Jenny Kelley | Partner Liaison | jenny@frontburnermarketing.com | 216.526.3803