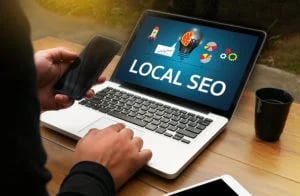 Bringing visitors from all over the world to your site with SEO is amazing. You can get visitors from here to Timbuktu, if you do the work. Inbound marketing is the perfect tool to help you, too. But, while you're building your global brand, don't forsake your local area. Own your own backyard. Here are steps to just that.
We found this great article on Manta outlining 10 steps:
1. Fill Out Your Google My Business Page
One of the simplest yet most effective ways to boost your local search ranking is to register with Google My Business. To get the most out of the listing, fill out all the fields, including your address, phone number and business hours. (You get bonus points for adding photos of your location and staff to personalize your profile even further.)
2. Build Consistent NAP (Name, Address, Phone)
When Google crawls the web for search results, it looks for mentions of your business' name, address and phone number (NAP). Even slight variations, like an abbreviated street address or alternate phone number, can confuse Google, so it's important to make sure that your NAP is consistent in every citation, on or off your website. You can see how your business listing appears everywhere on the internet with a free Local Search Report from Manta.
3. Claim Online Listings
To read the full article, and you should, click over here.
If you think you're in over your head and need help owning your own backyard, call the experts at Front Burner Marketing today. We can help you with your inbound marketing as well as local presence.