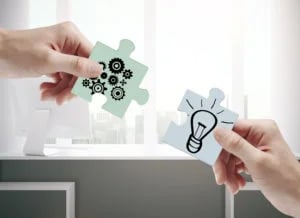 Many entrepreneurs come up from a point of doing everything. They start with an idea for a business and make that happen. In doing so, they also piecemeal the rest of the business functions together, from payroll to IT to janitorial work. It's not because they like doing these things, it's the mindset that they know what needs done and can save money by doing it themselves. But, when you want to grow a business, you need to learn to focus on your core competencies and let someone else handle the rest. Outsourcing is the answer.
Outsourcing used to have a negative connotation. It's associated with local people losing jobs to cheaper labor overseas. But, that model isn't the one we mean. Today, with cloud applications and a gig economy booming, you can find an ocean of local talent that have the skill sets you need. This isn't cheap labor for the sake of savings. This is skilled labor for the sake of your sanity.
While plenty of people recognize that it's best to outsource functions like IT hardware management and payroll services, there are other areas that you may be less aware of. One of the best functions to outsource is marketing.
If you're a startup, small business, or an organization focused on other growth initiatives such as product, bringing your marketing efforts to an agency that can strategize and execute across multiple marketing channels could be key.

Additionally, you can get all the perks of having a multimillion dollar marketing staff, but stick within your budget. Outsourcing provides these digital experts -- who have likely worked with top-tier brands -- at a fraction of the cost with no long-term commitment.

Some of the other benefits include:

Cost: At much less than the cost of one full-time executive, you get an entire team of experts, and can expect cheaper ad costs and software costs, among others.
Access: With the right firm, you still get complete access to all of your data and learnings -- no hidden fees/total transparency.
Time: You save on all of the time it takes finding someone -- or trying to learn the entire Internet marketing field yourself.
Experience: Your team will benefit from the experience the marketing team brings to the table, such as familiarity with your target market and the many marketing channels and opportunities available.

"The benefits are endless. The alternative, trying to hire an entire team in-house, can be very expensive and usually doesn't land you the same level of expertise and experience." (Forbes)
Outsourcing saves overhead, commitment, recruiting time, training time, and expenses of full-time staff, while allowing you to tap into experts without all the associated expenses. If you're interested in focusing on your strengths and growing your business, consider calling the outsourced marketing team at Front Burner Marketing. We have the expertise you need and will treat your business as if it were our own.