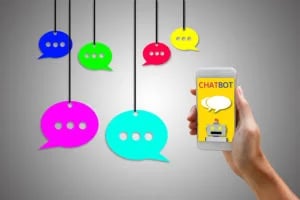 Humans are funny creatures. Once we get really good at something, we get bored with it and want to move on, knowing our time is best spent elsewhere. But, that first thing may still need to get done. So we outsource, whether it be to someone with less experience, or perhaps now to a computer program that we can teach to handle it. We are finally seeing the future become reality when it comes to the promises of Artificial Intelligence, and it's in the form of chatbots.
How do we use these chatbots in our marketing strategy?
Here are some insights from Entrepreneur.com:
Offer your audience a personalized experience.

Having an interaction with someone who knows you by name can completely alter the nature of a conversation. Chatbots integrate with social media, gathering data about every single person with whom they interact.

When a user has a customer care inquiry, the chatbot can answer it accurately and take the conversation a step further by offering personalized shopping advice based on the customer's purchase history and preferences.

Larger engagement capacity.

Chatbots are unique because they not only engage with your customers, they also retain them. This means that unlike other forms of marketing, chatbots keep your customers entertained for longer. For example, let's say you catch your audience's attention with a video. While this video may be extremely engaging, once it ends, it doesn't have much more to offer.

A chatbot can catch your audience's attention and learn from the interaction, allowing it to send relevant information regarding your brand, products, and services. Essentially, it's able to up-sell and cross-sell in a personalized, conversational, and engaging way.
This article is great and lists 8 more ways to use chatbots so read it.
If you think your business could benefit from a little AI helper, we can help. Let's work together to find a way for you to worry less about the day-to-day customer interactions, and focus on the bigger picture of growing your business.