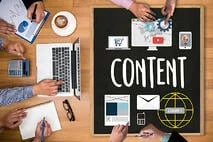 The term "content marketing" was first publicly
used in 2001, when Cleveland-based Penton Custom Media starting using the
description for a type of marketing that shares valuable information in an
informative manner. Ohio brands Sherwin-Williams and Proctor & Gamble were
some of the first major corporations to fully embrace content marketing in
successful campaigns in the early 2000's, and in 2010, the Content Marketing
Institute was formed along the shores of Lake Erie in Cleveland, Ohio. Despite
its Ohio roots, the concept behind content marketing dates much further back,
as brands have been telling their storied for hundreds of years. Let's look at
exactly what is considered content marketing, and why it's important to today's
marketing success.
WHAT IS CONTENT MARKETING?
Constantly evolving as technology and trends develop, the
following is a list of 10 typical and most widely used types of content
marketing:
1. Blogs
2. Videos
3. Infographics
4. Case Studies
5. eBooks
6. User Generated Content
7. Checklists
8. Memes
9. Testimonials & Reviews
10. Whitepapers
Each of the above types serve the purpose to educate your
customer/prospects by providing valuable material that will benefit them.
Content Marketing is NOT a statement of benefits of your product, taglines or
product descriptions. IN other words, content marketing is not direct selling
statements, but rather, a softer approach to deliver information about solving
problems that, it just so happens, your company produces a good or service that
assists in the solution.
WHY CONTENT MARKETING?
Let's look at that list again, but this time, identify when
each of these types of content is best used and why it is effective:
1. Blogs: A blog is a chance to position your company and/or
executive as an industry expert on the problems your customer face. While they
may not always keep every reader's attention, they are wildly effective as a
means to drive more organic traffic, as they boost SEO.
2. Videos: Videos are all about grabbing attention and
engaging your audience quickly. These can be used to boost other forms of
content on your site that may be overlooked when they are not as
"sexy".
3. Infographics: With colorful words and eye-catching
graphics, these are best used to quickly explain a more complicated process or
solution.
4. Case Studies: Further down the pipeline, case studies are
a great tool to engage interested leads to learn more.
5.eBooks: These are best used to further promote your
company or executive as a thought-leader.
6. User-generated Content: When done correctly, this type of
content can easily go viral as fans get involved in discussing your brand on
social media and beyond.
7. Checklists: These tools are immensely valuable for
businesses selling into other businesses, especially in the SMB space, as they
can get some quick attention to other businesses looking to solve problems.
8. Memes: These only work well if they are timed just right.
Create a meme that hits home to what people are talking about, and you can
start to see traffic to your site explode.
9. Testimonials/Reviews: Similar to user-generated content,
these are crucial for potential buyers, especially in the retail and
hospitality sectors.
10. Whitepapers: While equally longer forms of contents like
eBooks, Whitepapers are different in that they pack a lot of data, stats and
research. Geared towards the more detail-oriented and technical people within
your prospects and customers, these can be a great tool to get influencers to
push decision makers towards your solution.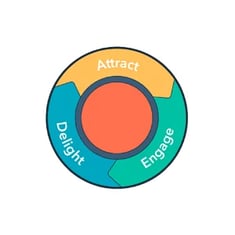 How all these types of content work together at the right time in the lifecycle of a customer is often represented as a flywheel, as in HubSpot's Flywheel of Marketing pictured below. Some content attracts strangers to your site (videos and memes, for example), while others engage prospects (blogs and infographics), which in turn continues to convert them to customers (whitepapers and case studies). Finally, tools such as reviews and user-generated content will delight your customers to promote you to others, carrying the momentum to continue to engage new prospects, and so on!
HubSpot's Content Marketing Workbook is an excellent source and beginner's guide to applying content marketing to your business. Click below to receive your free copy!