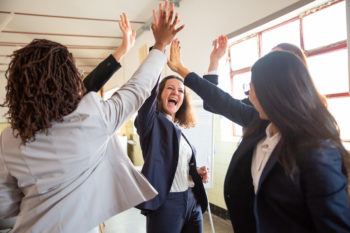 Women are powerful and influential. They are the primary consumers and decision-makers when it comes to purchases or selecting a service provider (80% in fact). So it should be a top priority for marketers to understand and connect with them. Unfortunately, it's not as simple as adding pink to your advertisements or following traditional persona stereotypes. Women are complex and on individual journeys, and in order to engage this audience, it requires research and understanding of diversity and individualism.
One of the most icon brands in the world, Apple, understands this. To celebrate International Women's Day (March 8th) this year, they are connecting with their target audience through over 5,000 female inspired events this month (called "She Creates" sessions of Apple Today), to demonstrate they value and appreciate women—not overtly marketing to them. So take notes!
Apple Stores to Host Over 5,000 Female-Focused Sessions in March for International Women's Day
Women are a market no business can afford to ignore. As a company made up primarily of women, Front Burner Marketing understands marketing to women. We can create a plan to help you successfully reach them.