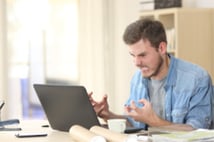 Creating valuable
content that attracts and engages your audience is a crucial aspect of inbound
marketing. Today, customers live in an age where information is abundant.
As such, quality
content creation can elevate a brand above the millions of marketing messages,
and serve as the fuel for audience engagement. This guide will take you through
the content creation steps to bolster your inbound marketing strategy.
1. Coming Up with
Relevant Topics
The first step to
content creation is understanding what your audience is looking for. This can
help you decide on specific topics to cover. Research what the competition is
doing. This allows you to determine what may be working for them or exactly how
they engage their target audience. You can then identify key elements, which
you can replicate or improve on.
According to HubSpot, being knowledgeable about your industry is among the habits of great content creators. Successful content creators search the web for industry news and trends, study the audience, and then develop their voice. Regularly view the social channels and blogs of your peers and industry leaders to see what they post.
Take a deeper look at what industry participants are posting, and you should be able to figure out the type of content that sees high engagement. Conducting platform-specific research can also help you come up with content ideas. Research the platforms where you have an existing audience and you can try to increase engagement, and platforms here you are not currently present and you can seek to develop an audience.
Use Google's Keyword
Planner to view how often users enter a search term into the search engine.
Formulate and then research alternative or related keywords. You will discover
that many consumers are searching for solutions to topics where you are an
expert. Other ways to find great topics include analytics, social listening,
Google alerts, and Hashtag research.
2. Select the Type of
Content You Will Create
Great content is much
more than just the conventional blog post. It can be a video, an infographic, a
presentation, audio, or even a social media contest. The type of content you
select will depend on the topic you have in mind and your industry.
Some topics are more impactful when you cover them in conventional article form. Other topics such as instructions, tutorials, or presentations are best covered in the video, audio, or graphics. Below is an overview of the different content types and the forms you can opt for:
Blog post – list, review, commentary, checklist, news
Long-Form – eBook, whitepaper, tutorial, case study, in-depth guide
Graphics – infographic, photo, meme
Video – tutorial, webinar, review
Interactive – quiz, interview, social media challenge/contest
Audio – Podcast, tutorial, interview, commentary
User-generated Content - posts, memes, testimonials, influencer and other social shares
3. Create Engaging and
Enjoyable Content That Provides Value
Thorough audience
analysis is half the work in content creation. The other half is best explained
through HubSpot's "Flywheel" inbound marketing methodology. The flywheel
concept is a business growth model, which focuses on the momentum of satisfied customers to drive sales and referrals. It is an improvement from
the marketing funnel mindset.
The HubSpot wheel is
comprised of three aspects surrounding growth: Attract, Engage, and Delight.
The rotation of the wheel represents a satisfied audience that fuels growth by
sharing your content in their network. This creates credibility and momentum,
which keeps the wheel spinning.
As such, your content
must add value at every stage of your audience's journey. It has to capture
their attention, engage them by offering value (solutions to queries), and
delight them into keeping the wheel spinning. Since it is difficult to have
original topics today, imbue a personal and unique voice to your content.
Regardless of the type of content you create, introduce something extra to it. Add visuals to your blog post or write articles around your videos. An online analysis by BuzzSumo revealed that articles with images following every paragraph receive twice as many shares on social platforms than those without.
High quality content creation is not an easy process. It takes time and practice. One thing that can make you a better content creator is finding things that you are passionate about. It pays to be bold, thought-provoking, and go against the grain of the mainstream to make your content stand out from your peers.
HubSpot's Content Marketing Workbook is an excellent source and beginner's guide to applying content marketing to your business. Click below to receive your free copy!