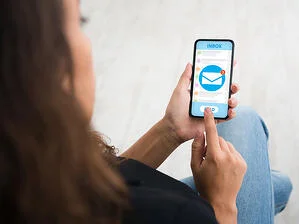 It's time to send a marketing email to your list. You have identified the right receiver. Your subject line is attention-grabbing and has an ideal length. You drafted nearly perfect copy including an irresistible CTA. But when it comes to scheduling your glorious creation, you wonder, "When is the best time to send an email to get the most engagement?"
The short answer to that question is something you might not want to hear; it depends.
Data Tells a Story
According to HubSpot, in 2021, 77% of marketers reported seeing more engagement with email over the past year, and that trend will likely continue. To help ensure your messages make the most impact, companies in the email marketing software space have analyzed billions of emails sent by millions of users on their platforms. What they found are several data points that can help make your email campaign a success.
Based on data from MailChimp and WordStream, Tuesday, Wednesday, and Thursday are the best days to send emails for better open rates, and research from 10 studies has proven that Tuesday is the clear winner to increase open rates.
Consider this analysis based on open and click rates from various email marketing platform studies:
Best time to send B2B emails: Midweek around 10am with Tuesdays and Thursdays being the best days according to the data (

HubSpot

)

Worst day to send B2B emails: Sunday (

Sender.net

)

Worst time to send an email based on open rates: From 7pm to 5am (

Moosend

)
Armed with these data points, you may think you're on the way to sending out that email, but not so fast.
Email Marketing Best Practices
We've written a list of email best practices, but here are some additional tips to help you make the right choice on an email send time:
Determine Your Objectives: Before executing an email campaign, you must figure out your objectives. What are the key performance indicators (KPIs) that will determine a successful campaign? Look to your goals and align your KPIs around them. After you set your objectives, you can determine the email metrics (click-through rate, click to open rate, open rate, sales conversions, etc.) you will use to measure your campaign. Once you figure out those components, you can accurately evaluate your results.
Get Personal and Know Your Audience: You may have a list of 10,000 prospects, but it would be impossible to know everything about every single buyer you might encounter. But you can use a buyer persona to determine ideal times to send an email that will get opened. For instance, if your buyer persona is a busy mom who takes pride in making a nutritious breakfast for her kids, you might want to send an email on a weekday between 5 and 6am as she sips her morning coffee while scrolling her inbox. When you know your audience, you can tailor your offers for them and reach them at the right time.
Test, Measure, and Track Results: A/B testing helps you understand your audience and track engagement. You can run tests on all sorts of details, including the best time to send emails to get results. No matter how large or small your email list is, the data you gain from running tests will give you valuable insight into the next email campaign you launch.
The Best Time to Send Emails Will Evolve
"Email has an ability many channels don't: creating valuable, personal touches – at scale."
- David Newman, Marketing Coach, Consultant, and Blogger
Customer behavior is ever-evolving and great marketers know you're never done experimenting to find out what works. So before you send that perfect email at the perfect time, remember to outline your objectives, understand your customer, and test measure, and track to achieve success.
At Front Burner Marketing, we use various tools to decode customer behavior and help our clients make personal connections with their customers. That includes knowing what to write and when to send your emails for optimal results. It's important to stay informed with updated information to make choices that support your objectives. Contact the experts at Front Burner Marketing before building your next email campaign.