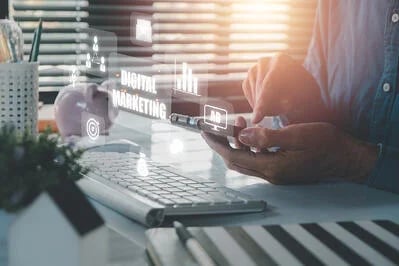 Like many industries, digital marketing is constantly evolving and changing. It's hard for everyone to keep up—seasoned marketers, newer marketers, aspiring marketers, and even those who only wear the marketing hat as part of their job.
So, let's start simple. What exactly is digital marketing? According to HubSpot, digital marketing, also called online marketing, refers to all marketing efforts that occur on the internet.
Why is it important? As you probably know, digital marketing helps you reach a larger audience than you could through most traditional methods. Plus you can direct your efforts towards those who are most likely to buy your product or service by using targeting criteria that exemplify your buyer personas. Additionally, it's often more cost-effective than traditional advertising and enables you to measure success on a frequent basis, so you can be more responsive and proactive—fine tuning your tactics, messaging, and delivery methods as needed.
There are several types of digital marketing that are key to successful strategies and campaigns:
Search Engine Optimization (SEO)
Content Marketing
Social Media Marketing
Pay Per Click (PPC)
Affiliate Marketing
Marketing Automation
Email Marketing
Online PR
Inbound Marketing
Sponsored Content
Search Engine Marketing (SEM)
Instant Messaging Marketing
Let's explore these digital marketing keys, so you can incorporate them into your marketing efforts right away and start seeing results!
1. Search Engine Optimization (SEO)
This is the process of optimizing your website to "rank" higher in search engine results pages, which increases the amount of organic (AKA free) traffic going to your website. Websites, blogs, and infographics can all benefit from SEO tactics and help attract visitors.

There are several ways to approach SEO in order to drive qualified leads to your website including:
On-page SEO: This type of SEO focuses on all of the website content that is "on a page". By researching keywords for their search volume and intent or meaning, you can answer questions for readers and show up higher, or rank, on the organic search results pages those questions produce.
Off-page SEO: This type of SEO encompasses all of the activity that takes place "off a page". Other things affect your website rank besides your page content, like Inbound links (AKA backlinks). The number of websites that publish links to yours, and the relative "authority" of those publishers, affect how highly you rank for keywords you care about. How exactly can you do this? By networking with other publishers, writing guest posts on their websites, linking back to your website, and generating external attention. This can help you earn the backlinks you need to move your website up on all the right search engine results pages (SERPs).
Technical SEO: This type of SEO addresses the backend of your website and how your pages are coded. Image compression, structured data, and CSS file optimization are all forms of technical SEO that can increase your website's loading speed. The speed is an important ranking factor in the eyes of search engines like Google.
2. Content Marketing
Content marketing focuses on creating, publishing, and distributing content for your target audience.

Here are some channels that can play a part in your content marketing strategy:
Blog posts: Writing and publishing articles on your company blog helps you demonstrate your industry expertise and generates organic search traffic. This ultimately gives you more opportunities to convert website visitors into leads for your sales team.
Ebooks and whitepapers: Ebooks, whitepapers, and similar long-form content helps further educate your website visitors. Plus, it allows you to exchange content for a reader's contact info, which can help you generate leads for your company and move people through the buyer's journey.
Infographics: This type of content helps website visitors visualize a concept you want to help them learn.
Audio or visual content: Believe it or not, television and radio are still channels used for digital marketing. Creating content that can be shared online as a video or heard on the radio by listeners can greatly broaden your potential audience.
3. Social Media Marketing
Promote your brand and your content on social media channels to increase brand awareness, drive traffic, and generate leads.

Some popular channels you can use in social media marketing include Facebook, Twitter, LinkedIn, Instagram, Snapchat, and Pinterest. Although it's not an easy feat, many marketers try to use these social media platforms to create a viral campaign. How do they do it? Most strive to create viral campaigns by partnering with a popular content creator or taking part in a trend that's currently resonating with a wide audience. This strategy can help you create something share-worthy in the hopes that it will organically spread across a social media channel.
4. Pay Per Click (PPC)
Pay Per Click is a method of driving traffic to your website by paying a publisher every time your ad is clicked. The most common type is Google Ads. Google Ads allows you to pay for top slots on Google's search engine results pages at a price "per click" of the links you place. PPC can be used on other channels such as:
Paid ads on Facebook: You can pay to customize a video, image post, or slideshow, which Facebook will then publish to the news feeds of people who match your audience targeting criteria.
Twitter Ads campaigns: You can pay to place a series of posts or profile badges to the news feeds of a specific audience, all dedicated to accomplishing a specific goal for your business such as website traffic, more Twitter followers, tweet engagement, or even app downloads.
Sponsored Messages on LinkedIn: You can pay to send messages directly to specific LinkedIn users based on their industry and background.
5. Affiliate Marketing
This performance-based advertising allows you to receive commission for promoting someone else's products or services on your website. Popular affiliate marketing channels include:
Hosting video ads through the YouTube Partner Program.
Posting affiliate links from your social media accounts.
This is part of a relatively new wave of influencer marketing, which can be highly effective and take your digital campaign to the next level if you find the right content creators.
6. Marketing Automation
Marketing automation refers to the software that serves to automate your basic marketing operations. This can help you set-up some of your repetitive tasks to happen automatically, including:
Email newsletters: Email automation helps you automatically send emails. Plus, it can help you shrink and expand your contact list as needed so you're sending newsletters to those who want to see them in their inboxes.
Social media post scheduling: If you want to grow your organization's presence on a social network, you need to post regularly. This can be daunting when done manually. Social media scheduling tools push your content to your social media channels for you, which gives you more time to focus on strategy.
Triggered response workflows: This helpful function allows you to create nurture campaigns and program a variety of other actions that are highly targeted based on specific criteria that trigger enrollment in a prescribed automated set of tasks.
7. Email Marketing
Businesses use email marketing to promote things like content, discounts, and events. There are many types of emails you might send in an email marketing campaign such as:
Blog subscription newsletters.
Follow-up emails to website visitors who have downloaded something.
Customer welcome emails.
Holiday or other promotions available to your members.
Tips or similar series emails for customer nurturing.
8. Online PR
This is the practice of securing earned online coverage with digital publications, blogs, and other content-based websites. It's similar to traditional PR, but in the online space. Some ways to practice online PR include:
Reporter outreach via social media: Talk to journalists on Twitter or other platforms to develop relationships with the press that produce earned media opportunities for your company.
Engaging in online reviews of your company: Have you considered engaging with those who review your company--both good and bad? Probably not, right? We suggest giving it a try. Engaging company reviews can help you humanize your brand and deliver powerful messaging to protect your reputation.
Engaging in comments on your personal website or blog: Just like responding to reviews of your company, responding to the people who are reading your content is a great way to generate productive conversation around your industry.
9. Inbound Marketing
Inbound marketing is the marriage of context and content, providing prospects with the right content in the right place at the right time. It refers to a marketing methodology where you attract, engage, and delight customers at every stage of their journey to purchase. This helps you create a customer experience that works with your prospect, not against them. Here are some examples of inbound marketing:
Blogging (instead of pop-up ads)
Video marketing (instead of commercial advertising)
Email contact lists (instead of cold emails to random or purchased lists)
10. Sponsored Content
Sponsored content means that your organization pays another entity to create and promote content that discusses your brand or service in some way. A popular and growing type of sponsored content is influencer marketing. Brands sponsor an influencer in their industry to publish posts or videos related to the company on social media.

A blog post or article that is written to highlight a topic, service, or brand, could also serve as a form of sponsored content.
11. Search Engine Marketing (SEM)
Search engine marketing is a great way to increase website traffic by placing paid ads on search engines. The two most popular SEM services are Bing Ads and Google Ads. These paid ads fit perfectly on the top of search engine results pages, providing instant visibility.
12. Instant Messaging Marketing
Marketing your products through messaging platforms is a quick way to reach potential leads. You can easily let your audience know about flash sales, new products, or even updates about their orders. It's also a convenient way to connect to customer service. You can instant message directly to a mobile phone via text or through messages on platforms like Facebook Messenger or WhatsApp.
Now You Can Power Up Your Digital Marketing Skills!
We hope you learned something and are inspired to incorporate a new type of digital marketing into your current strategy. Not exactly sure how to do it? No problem—check out Front Burner's digital marketing course offerings available through our Marketing Training Room.