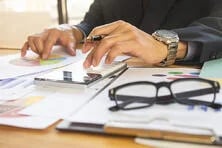 It's January 2020, the time to not only review the past year's successes and failures, but to plan for the future, putting into action new goals to strive for. The start of a new year is an exciting time to take a step back and look at where you want to take your business, and an important component to shaping your destiny will be a good marketing plan. So, what are your marketing goals for 2020?
Before you begin, you need to have a few key components in place:
Branding:
You need to have established clear brand guidelines,
ensuring that prospects and customers know who you are and what you stand for
at every touchpoint they have with you. That means consistency in your logo, the
colors you use, visuals (graphics, images), font style, personality and tone, vocabulary
and slogans. Representing your brand with consistency gives people some level
of basic assurance about who they can expect you to be and how they can expect
you to behave when they choose to interact with you.
Marketing Budget: To seriously and successfully promote your business,
you need to have the funds to support your marketing
strategy. Putting a budget in place can help you to ensure you have the
funds available, keep you from overextending yourself when an unexpected opportunity
comes your way, and make it easier to measure what type of return you're
getting compared to what you were hoping to get from your investment.
Once you have those two items in place, you can begin to determine some marketing goals for 2020. Here are some things to consider when you're crafting your plan:
Your Website
When was the last time your website was updated? At a bare minimum, be sure you've updated your copyright for the new year. From there, remember that your website is often the first touchpoint a customer has with you, so it needs to make a great first impression. You'll want it to not only be interesting, easy to navigate and attractive to the eye, but it should be mobile friendly, load quickly and be optimized for search engines (in fact, according to Forbes Magazine, almost 93% of all web traffic comes from online searches!).
Social Media
Your website is your primary hub of activity, where all other media can lead people who are looking for more information. But today, Social Media should also be a key component of your marketing plans. In fact, some people may never even go to your website, choosing instead to interact with you exclusively on your social media platforms. There are quite a few social platforms, but don't worry--you don't need to be on every one. Make sure to understand your key consumers and focus on their favorite social networks. Pick the platforms where you think you're most likely to find your target audience, and focus on making the content there interesting, valuable and current. To keep your social posts fresh, make sure you're using engaging visuals, whether by choosing thoughtful photos, graphics or video. (Did you know that 56% of people online use social media to watch videos? This popular format is one to consider using if you aren't already.)
Engaging Content
Posting regularly to your blog and sending email newsletters to those who opt in to receive them are two tried and true methods we recommend for reaching your audience. Why? Blogging is one of the best ways to increase traffic to your website. According to HubSpot, businesses have a 434% higher chance of ranking higher within search engine results if the site is regularly updating content. That stat alone should be enough reason to consider regular blogging. Also, it's usually a simple way to demonstrate to prospective customers that you are an active business who has subject matter expertise in your category. And if you take a look at your competitors' websites, notice how many of them haven't posted a new blog post in years! This is simply an easy win to jump ahead of those who have fallen behind.
As for email newsletters, they can be an informative and
extremely cost-effective way to regularly stay in touch with people who have
already expressed an interest in what you have to say. It's also a great
opportunity to repurpose content you've already created (ad, videos, blogs,
photos and graphics) by just editing and repackaging it for the newsletter
format. Although direct mail (snail mail) can have its own place in your
marketing plan, emails are far less expensive, so they represent a better
option when looking for a place to start if you're a small
business with a tight marketing budget.
Trust us, developing a
successful marketing strategy is no easy task.
If you're not experienced in the field or just haven't kept up to date on the
latest changes in the industry, it can be pretty overwhelming. It's a process
that can involve a great deal of anxiety since it's so important to the future
of your business, and let's be honest, it does take a good chunk of money and
expertise to execute it well.
A good starting place for any small business trying to create a cost-effective marketing plan is our easy guide, "The 30 Greatest Lead Gen Tips, Tricks & Ideas."