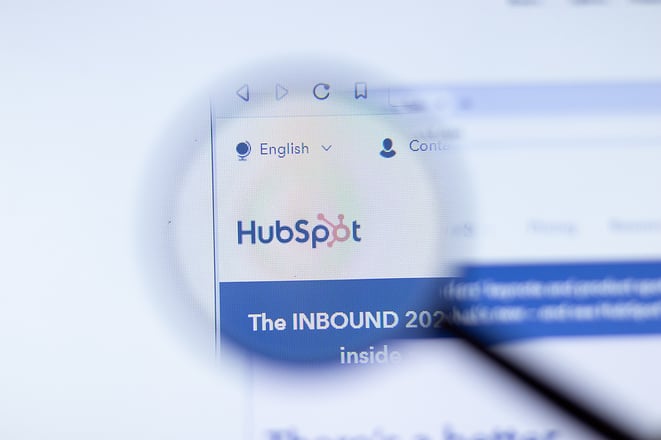 In 14 days, we will begin a New Year. For many of us, we are ready to leave the unpredictable year of 2020 behind us and start fresh. Was your business able to pivot your marketing strategy from physical lead generating events to online digital marketing? Do you know what is working and what is not? Have you defined your target audience and created marketing elements that will attract them and potentially convert them to be your new customer? Are you ready to re-connect with new prospects and customers after the holidays?
If you're unsure about the answers to any of these questions, now is the time to make a bold change to smarter digital marketing and take advantage of valuable year end discounts that are being offered. Everyone loves to save money, and it's a smart investment to help you amp up your game so you can hit the ground running in 2021.
We're particularly passionate about the marketing automation stack offered by HubSpot, a user-friendly and affordable way to coordinate your marketing efforts across the entire spectrum of the buyer's journey: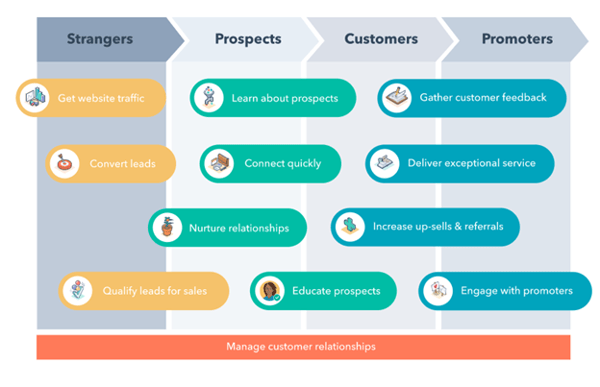 But what is HubSpot? Just another email drip campaign or blogging platform?
It's an all-in-one marketing, sales and service platform that provides you with the tools needed to build and grow remarkable customer experiences that will help you spin your flywheel faster. It's all powered by the same database so everyone in your organization works off the same system of record, allowing for a smoother handoff between teams and a more delightful experience for your customers.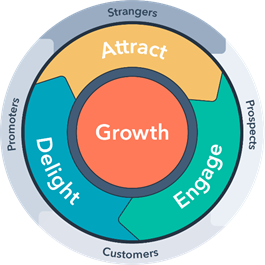 You can purchase just what you need and feel confident the system will grow with you. Each of their Hubs can be purchased separately, although there are discounts if you buy them together.
Many people begin with the free CRM they offer to unify your marketing, sales, and service databases, share context between teams and organize & track customer communications. But there is much more available to get your digital marketing running, plus support your Sales and Customer Service teams:
Marketing Hub will help you get found online, convert and nurture leads, and measure revenue.
Sales Hub will help you streamline your outreach, help connect with prospects on their terms, and track, iterate & improve your process.
Service Hub organizes and tracks customer communications, helps & delights customers at scale, and measures and improves your customers' experience.
CMS Hub is a website content management system that allows you to create remarkable website pages with ease, architect customer experiences using developer-preferred tools, and provides speed, security tools & reliability out of the box.
There are free versions of all the above tools so you can try them out for yourself. If you work with a HubSpot Partner, they can help answer questions about how to achieve the goals you want to achieve with guidance. If you decide to purchase HubSpot, you can avoid HubSpot on-boarding fees if you are working with a HubSpot Partner (Front Burner Marketing is a Gold Tier Partner offering both training and support). Costs are even lower if you're a member of an approved "incubator" organization that is affiliated with HubSpot.
HubSpot User Testimonial:
In 2012, I built a website and a blog on the HubSpot software platform. I am definitely not a programmer, but after our HubSpot Partner developed the custom look we wanted, I was able to drag and drop elements onto the pages easily. I also knew the keywords most often searched for our products and services, so I was able to work them into blog posts easily. Within 6 months, one of my blog posts became the number one blog post that appeared when searching a common industry question on the Internet and generated us traffic to our website. We also connected our social platforms and realized that Twitter is where most of our leads were generated from on social. This allowed us to focus on that social platform and create offers specifically for that audience. We then promoted our largest annual event on Twitter via a video series and were able to triple our tradeshow visitors because of this campaign! We were the talk of the show floor that year! – Gallo Displays, Cleveland, OH.
Want to learn more? Contact us. We'd be happy to help walk through some of the features of HubSpot with you. If you act NOW, you can secure lucrative discounts on HubSpot that can help you amp up your digital marketing game quickly in 2021.