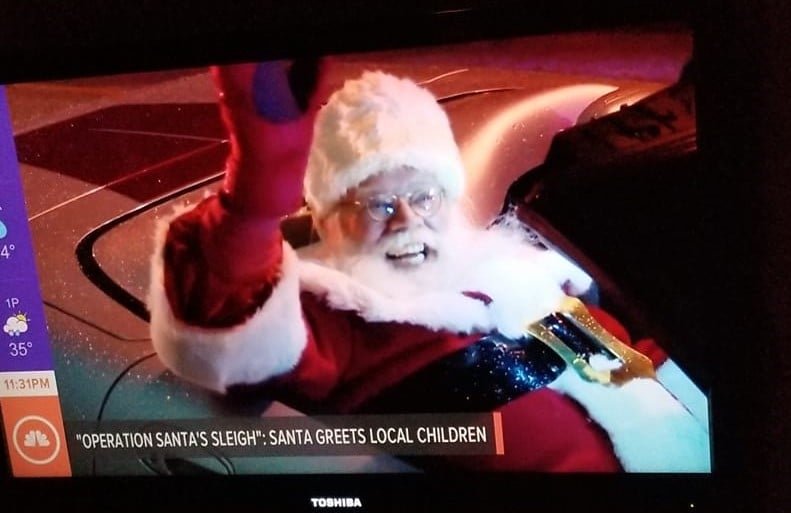 Who knew we had a resident elf working with us at Front Burner Marketing! Valerie Kliskey has been working with Santa's Hide-A-Way Hollow for almost 9 years. We thought we'd ask her a few questions about her involvement with this non-profit organization:
What is Operation Santa's Sleigh?
Santa received so many letters from kids this year who were worried about Christmas being cancelled because of the Coronavirus that he felt we needed to do something. Usually, he visits all the kids in the hospital the week of Christmas, but this year that just wasn't possible. So, he contacted Homeland Security, the Ohio Highway Patrol and local law enforcement and fire departments to help him "light up" the holiday. On December 23rd, hundreds of police cars and fire trucks lit up their lights, turned on their sirens, and had a Christmas parade around every children's hospital and VA hospital in Ohio so that the kids and veterans knew that they were not forgotten this year.
What is Santa's Hide-A-Way Hollow?
Santa's Hide-a-Way is Santa's summer home, located in Geauga County. It is almost 100 acres of a working North Pole Village, complete with putt-putt, fishing, a carousel, and a swing for kids in wheelchairs. We typically have events all summer long for kids in Hospice, any child with a Child Life representative at Cleveland Clinic, University Hospitals, Akron Children's, or MetroHealth. We have events for kids with Autism, Downs Syndrome, Craniofacial issues, and more. We also work with a lot of families at Hattie Larlham and Metzenbaum, celebrating Christmas everyday with them. When we have an event, the kids can get an ice cream cone, get a haircut (or a spit and shine), visit Santa in his Workshop, see the reindeer and elfpacas, have a cookout, participate in a sing-along and basically enjoy a day of Christmas cheer without anyone staring or wondering about them. We usually have about 30-50 volunteers per event to run all the buildings, assist with parking, and trolleying guests around the property. We also help families celebrate a last Christmas with a sick child, taking a caravan of fire trucks, elves, and Santa to visit with the family in the final days. Many families who have celebrated a final Christmas have planted a Christmas tree on the property to commemorate those special memories. We recently built the North Pole Chapel which the Bishop blessed last year, serving the many families who wanted to have a place to reflect.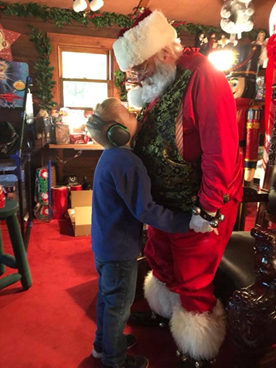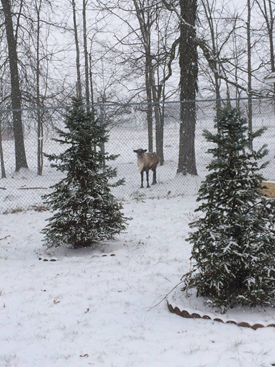 How did you get involved?
I met Santa at an SME meeting. He shared some heart-warming stories about how he became Santa and different experiences he's had along the way that really touched my heart. We then went to visit the property and it was more than I could have imagined. Because I worked for an exhibit company, I knew carpenters and graphic designers, so I organized a volunteer day where we helped insulate and add paneling to Don's Fishing & Tackle Shop on the property. At the same time, I had a graphic designer draw up sketches of some of the buildings, which were ultimately used to create a coloring book for the guests. Ever since that day, I began helping more and more with various marketing needs they had. I found a company to donate a website to them, began a Facebook page, then became involved with invitations and RSVP's for all the events. Now this year since we couldn't have 99% of our events, we started Zooming with the organizations we usually hosted at The Hollow! It ended up working out very well and we even Zoomed with Down's groups in Omaha, NE, and the state of Delaware. Next year we hope to implement some of the fun skits and songs we did over the Zoom calls, but this time do it in person at The Hollow. My husband started volunteering with me three years ago, and he proposed to me at Santa's Workshop a couple summers ago (he knew I wouldn't say 'no' in front of Santa!!). Being involved with Santa's Hide-A-Way has really allowed us to give back and get involved together with something important to us.