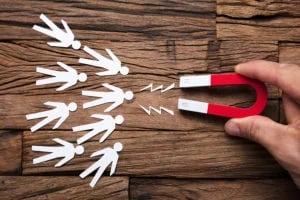 There are lots of ways to get search engines to point to you, and lots of those ways have changed over time. As marketers catch on the to the newest tricks, the algorithms change so they can't be gamed as simply. However, there is one tried and true method that boosts your search results: backlinks. As we've said before, not all backlinks are created equal. They need to be from trusted sites and lead to quality information. Here are some tips on building your backlink arsenal.
From Manta:
In order to begin your search for the best backlink sources, you'll first need to make sure the content on your website is strong and plentiful. Add a blog or ebook section to your company website, and get in the habit of regularly posting new entries. Once you feel you have topics that contain valuable insight from you, it's time to compile a list of contacts who might link to that content.

There are many potential sources from which to get backlinks.

Have you considered sponsoring a local sports team or charity group? Maintaining a strong connection with your community is crucial to building trust with local customers. Ask the organization's website manager to give you a link on their sponsors or donors page.
Look for networking opportunities with other local business owners and ask about linking to each other's sites. This mutually beneficial relationship establishes ongoing trust and rapport. Keep your contacts abreast of any updates or announcements you have added to your website's content so that they can reflect these updates as well.
You can also perform a simple Google search using some of your relevant keywords. Results can be plugged into a backlink checker to see what sites have also utilized that same key phrase within their site.
You can also swap links with partner companies, although reciprocal linking gets slightly less strong SEO juice. If you like what you're hearing but don't have the first clue about search engine function, let alone how to optimize it, call the marketing team at Front Burner Marketing. We are your outsourced marketing department and can handle all your marketing needs from postcards to inbound marketing to trade show prep. Call us today to get started.
If you happen to be in manufacturing, you'll love our marketing for manufacturers eBook. Just click below to get it.