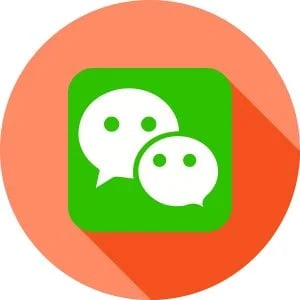 It's no longer enough to have a website and a blog. Smart businesses need to be aware of the ever-growing catalog of social apps, and decide which ones fit their brand and their customer. Effectively marketing across a range of channels and platforms isn't for the faint of heart. It challenges marketers to redefine how they reach their audiences and how they measure their success. It can also be just really exhausting! One of the new contenders to watch is WeChat. Here's a quick primer on this growing platform.
What is WeChat?
Essentially WeChat is to China what Facebook is to the United States. It's the dominant social media / messaging platform and it's used across multiple planes of a user's life. But it's so much more than that. It offers enough functionalities that users stay engaged with it throughout the course of the day.
At its core, WeChat is a communications app that operates over the internet. It can be used for free for voice, video, and text communications. But it has a much wider range of functions, that continues to grow.
Social Functions
WeChat offers a "news feed" called Moments. You can post pictures and links on this personal feed. You can then decide which users get access to it by establishing specific friend groups that have access.
As far as communication goes, as long as you're hooked into a network, you can easily text, voice text, voice call, and video message. But beyond that, you can group video chat with up to nine users simultaneously. You can also text chat with up to 500 users! Celebrities are using this feature to reach their fans in a very personal way (maybe your brand could too).
The text feed can feature standard texts, videos, music, photos, links, and the app offers a wide range of stickers to say in a quick pic just the thing you want to convey.
If you're a health fan, WeChat offers WeRun. This links your health data to your account and allows you to challenge friends on workout times.
If you want to meet new friends, WeChat can do that too. You can do a search by location of other nearby users who are looking for a new pal. You can play a game called "Drift Bottle", where you craft a text or audio message, put it in a little "bottle", and toss it "out to sea". Another user can find the bottle, read the message and decide if they want to reach out to you. And if you're really into spontaneity, there's a feature called "Shake". You literally shake your phone and if another user is shaking at the same time, you two get hooked up in a convo.
Commerce Functions
WeChat has a commerce feature that acts as a digital wallet and links to your bank account, called WePay. You can use this to transfer funds to other members. In the countries where WeChat is the most popular, you can use WePay to pay for goods and services, even pay your utility bill. You can also interact with businesses, like making doctor's appointments or hailing a cab.
Performance Measures
Measuring performance on these channels is also a daunting task. Tracking your success on WeChat is going to be largely based on how you choose to use it. If you're posting Moments on behalf of the brand, then likes and shares will be your gauge. If you're allowing transactions via WePay, transaction totals and dollar values will be your measure.
Embracing Social Messaging Apps in Marketing
Messaging apps like WeChat are used globally for both personal and professional communications. Outside of North America, there's higher use of channels like this one. According to the 2017 State of Inbound report, published by HubSpot, while only 15% of North America respondents use messaging apps for business purposes, 45% of Latin American and 37% of Asian respondents do. And to reach these folks, 24% of marketers plan to add messaging apps to their content distribution strategy in the next 12 months, up 4% from last year.
There can be a disconnect, however, with who in the business is pushing to incorporate these apps. According the report, 32% of C-level executives want to add messaging apps to their marketing strategy, while only 20% of individual contributors in marketing agree. That may feel like the execs see the jingly new toy and think they need it, and now! That can be an exhausting chase for marketers to keep up.
However, for marketers, it's important to learn how apps like this work, and choose the best plan of attack to reach the most potential customers where they "live". I'm not saying wait outside their door with a coffee. I mean learn how it's used and how the thing you're selling can best fit. Is WeChat right for your company and will your customers be using it? That's up to you to decide. Or maybe you should just shake your phone and hope someone picks up your message in a bottle.
Want to check out the 2017 State of Inbound for yourself? Click it!