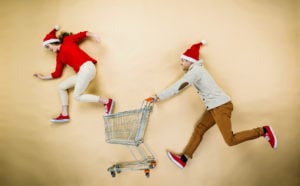 I don't know how papa in his kerchief and mama in her cap had any time for a winter's nap. Clearly they weren't working retail. For many retailers, and any business really, this time of year is kicked into high gear trying to make those end of year numbers meet or exceed your goals. Just because we're into the second week of December doesn't mean it's too late for a few last minute marketing attempts.
We found these smart tips from Salesforce:
1. Get more juice for the squeeze.
For your last few emails of the holiday season, make a special note of design and CTA elements (like a header image or "buy now" button) that convert particularly well and leverage those to encourage customers to make last-minute purchases and come in-store for the year's last sales.

2. Talk with customers, not to them.
Text messages boast an amazing open rate by customers, even in the busiest months. Customers will expect coupons in December, and SMS is a great way to distribute them — but invite a two-way conversation instead of letting SMS become a discount machine. For example, allow customers to text in to answer a question, get more information about a location near them, or even make a purchase.

3. Go live on social.
Social channels can be the perfect place to showcase the exciting holiday hustle and bustle in your stores. Consider hosting a Facebook or Instagram Live video from one of your flagship locations to drive in-store visits and purchases in your last sales.

4. Respect the holiday mood.
As Christmas Day draws nearer, remember that customers go to social media to share photos of family and friends, not just to be marketed to — so respect the holiday-oriented space.

5. Sing along to the greatest hits.
What subject lines, social messages, and products performed best in November? Your December ads should be a greatest-hits version of your holiday messaging, as you count down the days until 2017 sales are a thing of the past. Above all, don't advertise something people can't have. Cease ads when promoted products sell out or shipping dates pass the cutoff.

Read the other 5 tips here.
Did your marketing effort miss the mark this year? Maybe it's time to try something new. At Front Burner Marketing, we stay up to date on the latest marketing trends to ensure our clients are getting their message out to the right people at the right time. Let us make 2018 your biggest year yet. Contact us today.