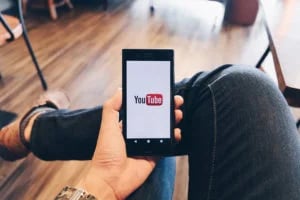 YouTube is the second largest search engine behind Google, and is growing as a marketing tool for businesses of all industries. While some might think their target audience doesn't spend time on YouTube, the analytics beg to differ. YouTube has more than a billion (yes, BILLION) active viewers and is available in 76 different languages, which makes it accessible to 95% of the world's population. Furthermore, YouTube reaches the 18-49 audience better than cable networks and broadcast mobile programs. For these reasons, business have begun to craft dedicated YouTube marketing strategies. Here are the YouTube basics you'll need to know in order to create a marketing strategy of your own.
Let's talk about YouTube. Chances are we've all spent a wasted afternoon watching one silly cat video after another.

YouTube has always been a source of entertaining content, but it's also staking its claim as an essential tool for marketers. In fact, nearly half of all marketers (48%) plan to add YouTube to their marketing strategy over the next 12 months ... according to the State of Inbound report.

You may be thinking: "That's great, but my audience isn't on YouTube." Well, think again.

One-third of total time online is spent watching videos, and YouTube has more than a billion active users. The platform is so expansive that it can be accessed in 76 different languages, accounting for 95% of the world's population. Still not convinced?

Keep reading here, on hubspot.com
For those who haven't created a lot of video content, YouTube can be an intimidating platform to tackle. However, it will be well worth the effort once your organization gains access to the billion+ viewers on the platform. From creating a new channel to optimizing videos for SEO, the above tips should help your business get started on YouTube. If considering a vlog style channel, it's important to do a bit of planning. Established YouTubers might make vlogging look like a breeze, but the videos are often less care-free than they look. YouTube strategy is relatively new, and already proving to be a valuable marketing platform. If your organization is interested in starting a YouTube channel, but video is not in your wheelhouse, marketing agencies can be a great resource to get you started.