What if we told you that you could get your employees educated and certified in digital marketing for free?
Front Burner has teamed up as a credential provider with Ohio's TechCred program to make that possible, but employers must apply during the enrollment period. (Sign up to be notified about the next open enrollment.) The TechCred program provides reimbursement for technology-focused certification courses up to $2,000 per employee credential.*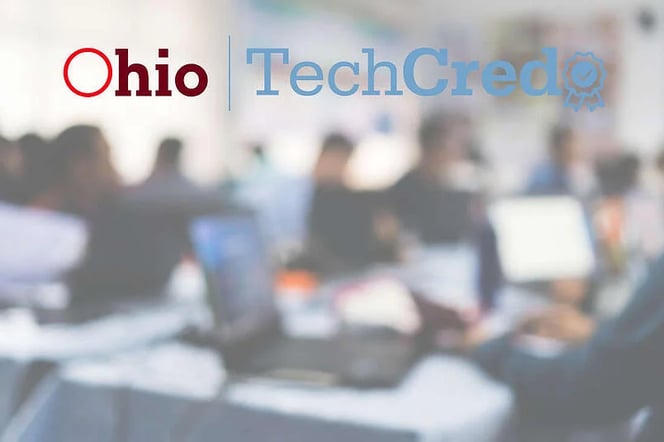 Our online Digital Marketing Certification course provides education and training with the added benefit of globally-recognized marketing certifications. Think of all the customers you can attract to your business with that, not to mention the clout you'll gain in your professional circles!
Do you want to turn your marketing capabilities up a few notches? If so, keep reading. In this article, we will answer these questions and more:
What is Ohio TechCred?
How does TechCred work?
How do I apply for TechCred?
Who is eligible?
What is included in the course?
The modern marketplace was already changing and evolving at a rapid pace, which then accelerated even more once COVID-19 hit. Increasing access and dependence upon digital tools have created new consumer habits that will never revert back again. Along with the new reliance on digital media, new opportunities and methods of marketing have evolved to make it easier to connect with consumers looking for products and services. To reach these consumers, your marketing team needs the digital skillset to take advantage of the new digital marketing applications that are widely available now.
If you're an Ohio employer, you're getting a big boost to help you train your workforce for the digital marketing age! The state of Ohio has created the Ohio TechCred program to help get employees the training they need without the cost holding them back. Here's how your team can leverage digital marketing tools and strategies to grow your business with Ohio TechCred.
What is Ohio TechCred?
Ohio TechCred is a program that helps Ohio employers build a stronger, more technology-driven workforce. The program focuses on training for new skills that result in certificates and certifications. In short, it's a program that was created to strengthen the Ohio economy by helping employees gain skills in new technologies.
How does TechCred work?
It's a fairly simple process. Once you've identified the skills you need on your team, you'll visit Ohio's site to register as a supplier and receive your Supplier ID. This will be the ID used by the State so they can process your reimbursement after certification. The Supplier ID is also required to complete your TechCred application.
Next, visit the Ohio TechCred website and apply for TechCred. You'll receive a confirmation that your application has been accepted. After you receive confirmation, you're ready to enroll employees in a course. You'll have to choose a course offered by a credential provider like Front Burner for reimbursement to be approved. Students will then have 12 months from the approval date to complete the course and earn their credentials.
When the coursework is complete and credentials are awarded, you'll upload the proof and wait for reimbursement. Meanwhile, your newly upskilled employees will be creating digital marketing plans and integrated marketing campaigns that will help your business find new customers.
How do I apply for TechCred?
Visit Ohio's TechCred application page and follow the yellow link labeled "Apply." You'll create an account and enter the required information, submit your form and watch for confirmation.
Who is eligible?
Anyone can sign up for the digital marketing course at Front Burner. If your business is registered in Ohio and employs Ohio resident W-2 employees, your business is eligible for TechCred reimbursement.
Only one application will be accepted per employer, so make sure you know how many people will be participating before you apply on the TechCred website. (You are not required to identify the specific individuals who will participate. That information will be required when submitting credentials as proof for reimbursement.)
For additional information on eligibility, visit the TechCred Program Guidelines page.
What's Included In The Course?
Our Digital Marketing Certification course awards two world-class certifications to each student and builds skills in several areas, including:
Search Engine Optimization (SEO)
Website Optimization
Email Marketing
Content Marketing
Paid Search (PPC) and Analytics with Google
Social Media Marketing
Display and Video Advertising
By the end of this online course, your employees will be capable of crafting digital marketing strategies from start to finish and make any necessary adjustments along the way.
Pre-Register Today
Spaces are limited. Pre-register today to take advantage of this amazing opportunity before it fills up. Whether your employees are already superstar marketers or barely beginning, this digital marketing course will help them understand and define your customers and how to reach them.
When Does the Course Begin?
Our Digital Marketing Certification course begins in November 2021. Once you've pre-registered, we will send you an email confirming that your seat has been reserved for that session, and we will send out reminders and updates prior to the session start date to keep you informed. Payment of $1,975 will be due prior to beginning the course.
Once the course has been completed and the exam successfully passed, the certificate will be issued and you will be able to submit for reimbursement from the TechCred program. Be sure to note when your 12-month window to submit ends though, we want to be sure the course is completed in time to qualify for the reimbursement!
*Reimbursement is contingent on TechCred credential approval.